TOP 10 Valentine's Day Dinner Recipes
That Are Better than a Dozen Roses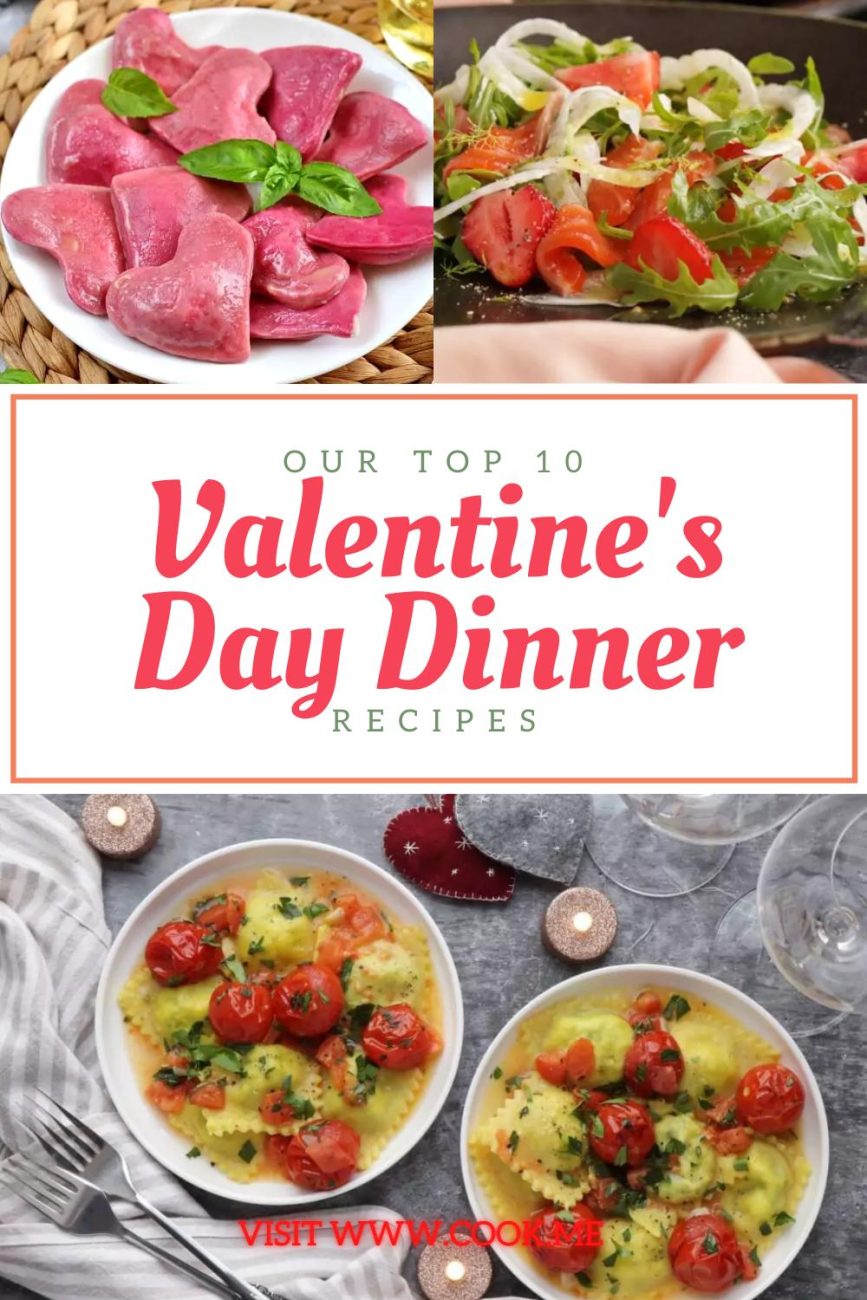 Reach for this Pasta with Burst Tomatoes and Mascarpone recipe for a romantic Valentine's Day dinner. This recipe starts with cheese-filled ravioli that are topped with broiled bursting tomatoes and garnished with some fresh herbs and followed by mascarpone. So delicious! Pasta is always a good idea, especially when it…
Ingredients for Pasta with Burst Tomatoes and Mascarpone:
1 24-oz package Cheese Ravioli
6 cups Cherry tomatoes
1 Tomatoes
2 cloves Garlic
2 tbsp Olive oil
¼ cup Butter
1 tbsp Lemon juice
¾ tsp Kosher Salt
¼ tsp Black pepper
½ cup Fresh herbs
1 8-oz container Mascarpone
Heart Beet Ravioli are a super dinner idea for a romantic birthday or anniversary dinner. What better way to say "I Love You" than with food? I use beetroot puree to turn the ravioli dough a pink color. I also use a pasta machine to roll out the ravioli but…
Ingredients for Heart Beet Ravioli:
FOR THE FILLING:
1 cup Ricotta cheese
1/4 cup Parmesan cheese
6-8 leaves Fresh mint
1 tsp Lemon zest
Salt
Black pepper

FOR THE RAVIOLI:
2 cups All-purpose flour
2 Large eggs
4 tbsp Beet puree
1/2 tsp Salt
Are you planning to prepare a special Valentine's Day meal? Then this Cauliflower Bisque with Brown Butter Croutons is a good way to show your appreciation and love. Because this special occasion-worthy soup is not only a delicious and flavorful winter soup, but it is also healthy. This vegetarian-friendly soup…
Ingredients for Cauliflower Bisque with Brown Butter Croutons:
2 cups Whole milk
2½ cups Vegetable stock
1 lb Cauliflower
¾ lb Potatoes
1 Onion
2 cloves Garlic
4 sprigs Fresh thyme
Kosher Salt
Black pepper
3 tbsp Unsalted butter
3 cups Ciabatta
⅓ cup Heavy cream
⅓ cup Pomegranate Arils
Chives
I love to make this Salmon, Strawberry & Fennel Salad for a healthy romantic date night dinner! This is one of my working from home favorites as I can pull the whole dish together in only 5 minutes. I love the combination of oily smoked salmon, sweet strawberries and crunchy fennel bulb….
Ingredients for Salmon, Strawberry & Fennel Salad :
FOR THE SALAD:
200 g Smoked salmon
1 large Fennel bulb
50 g Arugula
200 g Strawberries

FOR THE DRESSING:
4 tbsp Olive oil
2 tbsp White wine vinegar
2 tsp Whole grain Dijon mustard
1 tsp Honey
TO SERVE
Crusty Brown Rolls
If your family is big into seafood then this Shrimp Orzo with Feta recipe is going to be a real hit! It's not often that you'll find me designing recipes without red meat somewhere in the list of ingredients but I do enjoy shrimp and other shellfish, almost with the…
Ingredients for Shrimp Orzo with Feta:
1¼ cups Orzo pasta
2 tbsp Olive oil
2 cloves Garlic
2 Tomatoes
2 tbsp Lemon juice
1¼ pounds Shrimp
2 tbsp Cilantro
¼ tsp Black pepper
Salt
½ cup Feta cheese
This Slow Roasted Citrus Salmon is ideal for romantic Valentine's Day Dinner. Show Your Love with this delicious dish. Salmon fillets cooked in olive oil with lemons, blood oranges, tangerines, sprigs of thyme, parsley leaves and fennel fronds. The taste is flavorsome and scrumptious….
Ingredients for Slow Roasted Citrus Salmon:
1(1½ pound) piece of Salmon
2 Lemon
1 Blood orange
1 Tangerines
4 sprigs Fresh thyme
¼ cup Parsley
¼ cup Fennel fronds
1 cup Olive oil
Salt
Black pepper
This Duck and Orange Salad is quite an impressive dish and definitely will win you the title of Master Chef with it's exceptional flavor palette and elevated serving style. Roasted duck breasts in a orange sauce with toasted baguette slices and giant orange rounds topped with walnuts and sprinkles of…
Ingredients for Duck and Orange Salad:
2 x 150g Duck breast fillets
1 Baguette
15g Walnuts
3 Oranges
30g Spinach
Kosher Salt
Black pepper
This elegant and festive Russian Garnet Bracelet Salad is a fantastic blend of textures and flavors. Besides, it is fancy enough to serve at a dinner party! In this recipe, a crowd-pleasing staple, the potato salad is layered in the form of a wreath and garnished with pomegranate arils. Win…
Ingredients for Russian Garnet Bracelet Salad:
1 Chicken Breast
3 Potatoes
1 Beets
1 Onion
1 tsp Water
2 droplets Vinegar
1 Cucumber
2 cloves Garlic
2 tsp Walnuts
300 g Mayonnaise
1 tsp Salt
1 Pomegranate
Chocolate Panna Cotta with Strawberry Topping is a delicious take on this classic Italian dessert. I adore the combination of chocolate and strawberries, and this dessert couldn't be better – creamy, rich and absolutely gorgeous! Making this recipe is very easy too. Start by combining gelatine and cold water. Heat…
Ingredients for Chocolate Panna Cotta with Strawberry Topping:
FOR CHOCOLATE PANNA COTTA:
½ tbsp Gelatin
1 tbsp Water
2 cups Heavy cream
3 tbsp Granulated sugar
½ tsp Vanilla
2 ½ oz Dark chocolate

FOR STRAWBERRY TOPPING:
1 ½ cups Strawberries
3 tbsp Sugar
1 tbsp Water
This wowzer cake uses my favorite red velvet cake recipe and turns it into a Red Velvet Heart Cake. It's the ultimate Valentine's Day gift made with love. The deep red color and vanilla-flavored cream cheese frosting make this heart cake a perfect choice for your Valentine's Day dessert table. …
Ingredients for Red Velvet Heart Cake:
FOR RED VELVET CAKE:
1 ⅓ cups All-purpose flour
1 tbsp Cocoa powder
¾ tsp Baking soda
1 cup Sugar
½ tsp Salt
1 Large eggs
½ cup Vegetable oil
1 tsp Vanilla extract
⅔ cup Milk
1 tbsp Food coloring

FOR CREAM CHEESE FROSTING:
1 (8-oz) block Cream Cheese
1 tbsp Vanilla extract
5 cups Powdered sugar
Colored sprinkles