4

Chicken Breast

halves, bone left in and skin left on

2 cups

Crushed cornflakes

1/4 tps

Black pepper

ground
Baked Cornflake Chicken
A chicken dish with a difference, my Baked Cornflake Chicken is crunchy on the outside, juicy on the inside! If I want to add a little crunch to a dish, I often turn to the cornflakes box in my store cupboard. The topping for a mac n cheese, an extra crispiness in an apple crumble – corn flakes work great every time! With this dish, the crispy outer coating, seasoned and flavored with a touch of garlic powder, is the perfect accompaniment to the juiciness of the baked chicken. Baking the chicken in the oven is a healthier alternative to frying it in oil, and you still get the same tender texture and chicken flavor. Why not give this chicken recipe a go?
To make Baked Cornflake Chicken/strong> you will need the following ingredients: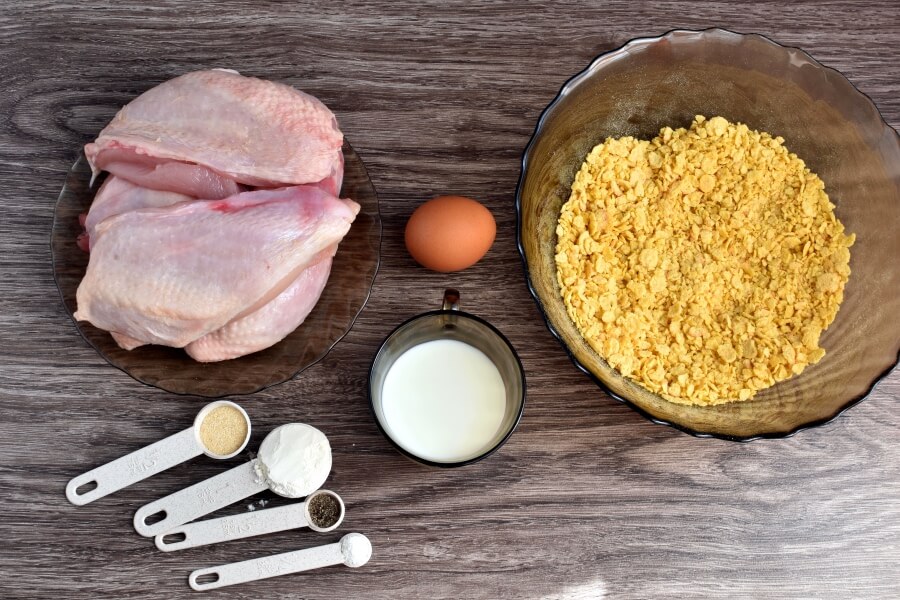 So, how to make Baked Cornflake Chicken?
Steps to make Baked Cornflake Chicken
Heat the oven and prepare a baking sheet

5

Prepare the coatings

5

Coat the chicken

5

Bake the chicken

35