1 tbsp

Black pepper

ground

1 tsp

Cayenne pepper

ground

1 (16 ounce) pack

Chicken Breast

skinless, boneless halves, cubed

1

Green bell pepper

chopped

1 cup

Water

or as needed to cover
Chicken Etouffee
This is my take on a Cajun-style Chicken Etouffee which is inspired by the time I spent living in Louisiana. Etouffee is a French word which literally means smothered and in this dish, I use a cooking technique known as smothering which is like stove-top braising. This is a really popular method of cooking in the Cajun areas of southwest Louisiana.
It's often made with crawfish but I prefer to make my version with chicken. I season chicken cubes with flour and cayenne pepper which gives this dish a bit of a kick – if you like your food hotter, add some more cayenne. Once I have cooked the chicken, I make a flavorful paste from the leftover chicken drippings and seasoned flour. I cook the veggies in the paste before smothering with water.
This is a really easy dish to make with a delicious result. Just be careful you don't burn the paste!
To make Chicken Etouffee, you will need the following ingredients: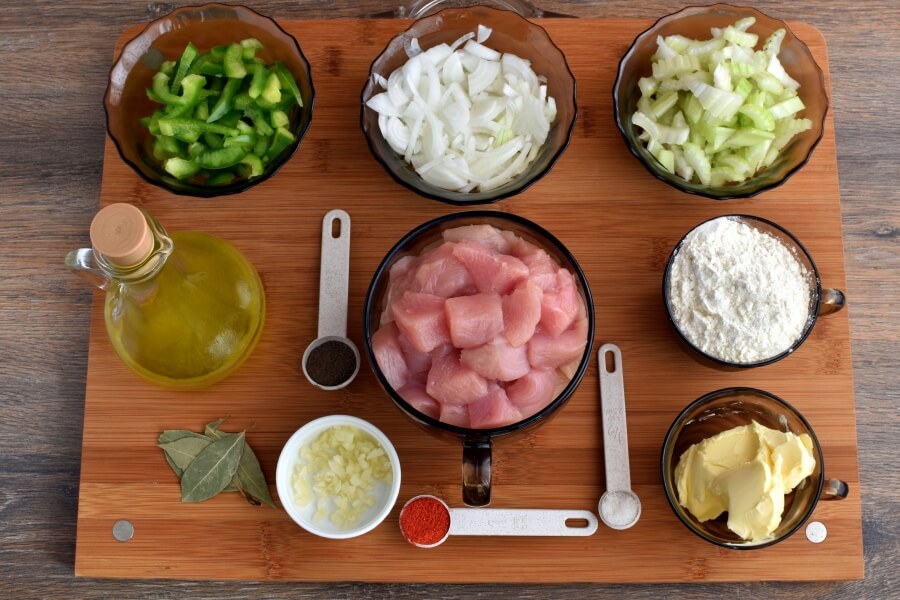 So how to make Chicken Etouffee?
Steps to make Chicken Etouffee
Heat butter and oil

5

Season the chicken

5

Cook the chicken

10

Make a flour paste

10

Add vegetables and more butter

10

Add water and bay leaves

5

Return chicken

10

Serve