for the choux pastry:

for the pastry cream:

4 tbsp

Butter

unsalted , at room temperature, cut into cubes

for the chocolate glaze:

4 oz

Chocolate chips

semi-sweet

½ cup

Heavy whipping cream
Classic Eclair Recipe
I love making this Classic Eclair Recipe when I want to please a crowd. North, south, east and west of France, you will find these oblong pastries made with a light choux dough filled with pastry cream and topped with chocolate icing in any cake shop you visit. The French love them and you'll soon see why.    
I start by making choux pastry from water, milk, butter, sugar and salt and flour which I pipe onto a baking sheet. Then I make a custard pastry cream from milk, vanilla bean sugar, corn starch, salt, egg yolks and butter. Once the eclair pastry shells are cooked and cooled, pipe the pastry cream inside and decorate with a chocolate glaze. 
To make this Classic Eclair Recipe, you will need the following ingredients: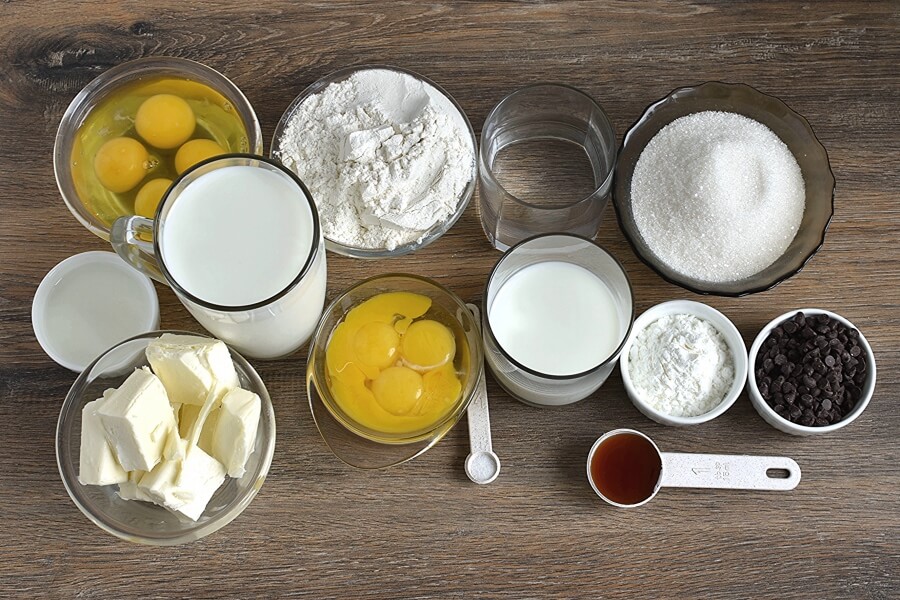 So, how to make Classic Eclair Recipe?
Steps to make Classic Eclair Recipe
Heat oven

5

Start making the choux pastry

5

Return to the heat

1

Add eggs

4

Transfer the choux to a large mixing bowl. To cool the mixture down slightly, beat with an electric mixer on medium for about 1 minute. Gradually, add 4 eggs one at a time, and beat well to incorporate each egg fully between additions. Beat until you have a smooth dough which forms a thick ribbon when you pull it up out of the bowl.

Pipe eclair dough

5

Bake

40

Make pastry cream

3

Whisk sugar, cornstarch, salt and eggs

2

Add hot milk

2

Add butter

33

Pipe eclairs with pastry cream

10

Make the chocolate glaze

3

Place the chocolate chips into a small heat-safe bowl. Heat heavy whipping cream in a saucepan or microwave until it is just at a simmer. Remove from the heat and pour the cream over the chocolate chips. Allow to rest for 2 minutes then whisk from the center outwards until you have smooth glossy sauce.

Decorate and serve

2