3/4 cup

Vegetable shortening
Flaky Pie Crust
This homemade Flaky Pie Crust recipe is my ultimate fail-safe method, tried and tested (oh so many times!) to get the perfect balance of buttery, flaky crumbliness. The recipe is pretty simple, only 3 main steps to combine the ingredients, a little bit of working the dough and then you just need to leave it to chill.
It can be left in the fridge for up to 5 days or you can pop it straight in the freezer for up to 3 months and thaw overnight before using. That means you can make this in advance and take some of the stress out of last-minute cooking. This recipe is enough for 2 pie crusts so whenever you make one, you can just put the other in the freezer ready for next time! If you like your pie crusts deliciously buttery and melt-in-the-mouth, this one's for you.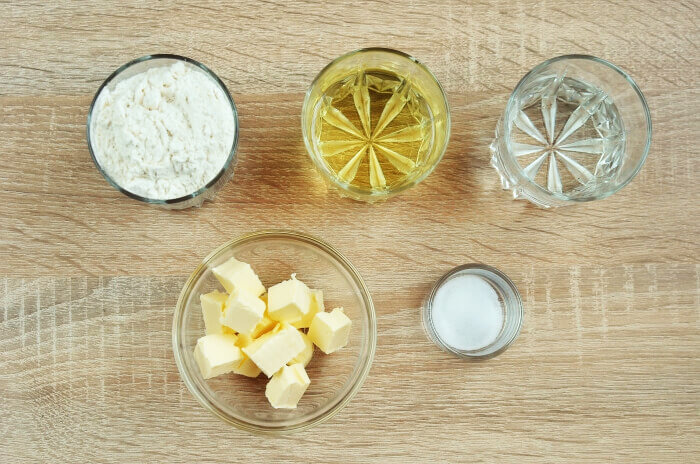 So, how to cook this Flaky Pie Crust?
Steps to make Flaky Pie Crust
Mix the flour and salt

1

Mix in the butter and shortening

5

Add the water

3

Work the dough

3

Prepare the dough to chill

3

Chill the dough

120

Put the dough balls into the fridge for 2 hours (up to 5 days). The dough can then be rolled out or prepared as per the instructions of the recipe you need it for. If you only need one of the quantities of dough, you can put one of the balls directly into the freezer (it will just need to thaw overnight before you come to use it).

Dough for a Flaky Pie Crust done!