3 cups

Strawberries

divided (2 cups + 1 cup)

1 cup

Ricotta cheese

fat-free

½ cup

Cream Cheese

less-fat, softened

1 cup

Amaretti cookie crumbs

about 8 cookies

½ cup

Frozen whipped topping

reduced-calorie, thawed
Healthy Strawberry Parfaits
This Healthy Strawberry Parfaits recipe is so easy to make and it tastes so good! It's a great way to showcase my favorite summer fruit – the humble strawberry. Strawberries mean summer to me. I absolutely love the burst of freshness and color they bring to smoothies, fruit salads and desserts! I was very happy to learn that they are packed full of nutrients too.
To make this recipe, you simply prepare a strawberry puree and mix together soft cheeses like ricotta and cream cheese with powdered sugar, vanilla and water. I then assemble the dessert in simple glasses, layering up the fruity and creamy mixtures until I have a striped red and white delight!
To make Healthy Strawberry Parfaits, you will need the following ingredients: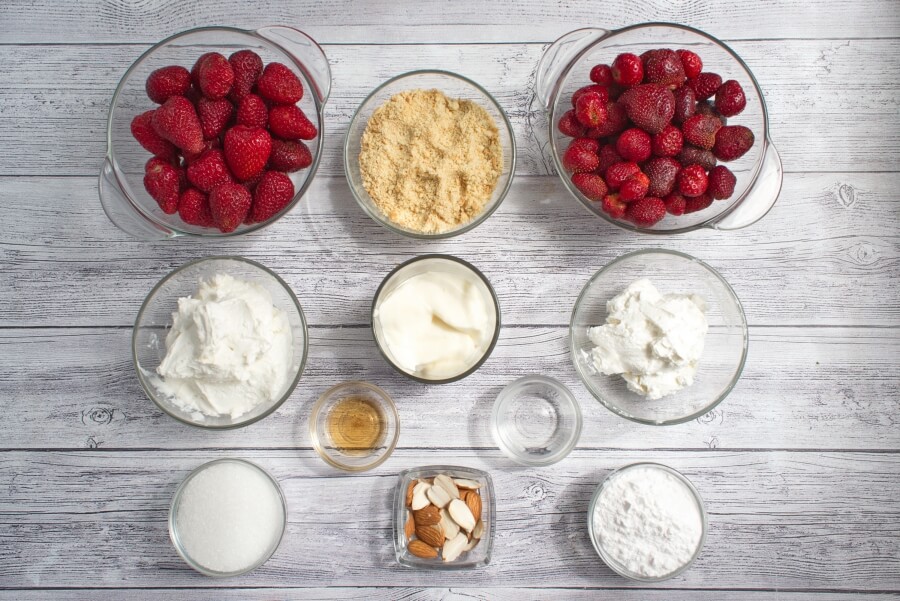 So, how to make Healthy Strawberry Parfaits?
Steps to make Healthy Strawberry Parfaits
Make strawberry puree

1

Mix together ricotta, cream cheese, powdered sugar, vanilla and water

1

Prepare glasses

1

Assemble the parfaits

5

Layer the different mixtures into the glasses. Start by spooning in 2 tablespoons of strawberry puree, then add ¼ cup of sliced strawberries, followed by 3 tablespoons of the creamy ricotta mixture. Repeat the layers until you have used everything. Try to ensure you top each parfait with a drizzle of the remaining strawberry puree.

Chill

2h

Serve