3½ cups

All-purpose flour

1 cup

Unsalted butter

melted, cooled

4

Large eggs

room temperature

3 tbsp

Rum

dark (omit, if desired)

2 cups

Walnuts

toasted, roughly chopped

1 cup

Dates

dried, roughly chopped

Brown Butter Glaze:

2½ cup

Powdered sugar

sifted

3 tbsp

Milk

or more according to thickness
Persimmon Rum Bundt Cake
In this Persimmon Rum Bundt Cake uses the persimmon fruit that has a jelly-like center, perfect for this recipe. The riper the fruit, the better tasting your cake will be.
Baked in bundt tins, as been described before, as a round, flower shape tin with a hollow center that will give your cake a unique and professional finishing touch. Serve with double whipped, fresh cream!
To make Persimmon Rum Bundt Cake, you will need the following ingredients: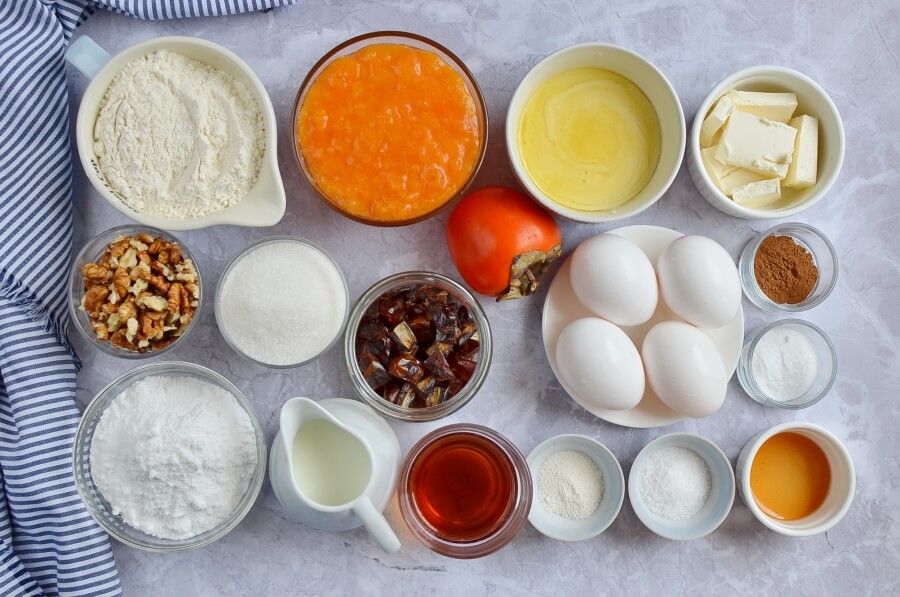 So, how to make Persimmon Rum Bundt Cake?
Steps to make Persimmon Rum Bundt Cake
Preheat oven and prepare baking pan

10

Combine dry ingredients

2

Combine wet ingredients

5

Add eggs

5

Add dry ingredients

3

Add rum and purée

3

Add more dry ingredients

3

Combine flour and dates

1

Add walnuts

1

Bake

1h

Melt butter

5

Cool

30

Prepare glaze

3

Serve