1 cup

Pumpkin puree

canned

2 packages

Active dry yeast

1/2 ounces plus 1 tsp white sugar

1

Egg wash

1 egg+1 tbsp water

15-20 halves

Walnuts

or pecans, sliced into 3 vertical sections

¼ cup

Butter

melted, or honey, optional
Pumpkin Dinner Rolls
Worth all the love and effort put into these Pumpkin Dinner Rolls you are guaranteed to impress your guests with these mini delights.
If you follow all our recipes, you will have noticed that your Halloween table is almost complete and now it's time to add these. Fill your rolls with some mini sausages and ketchup for blood, to add some spooky details.
To make Pumpkin Dinner Rolls, you will need the following ingredients: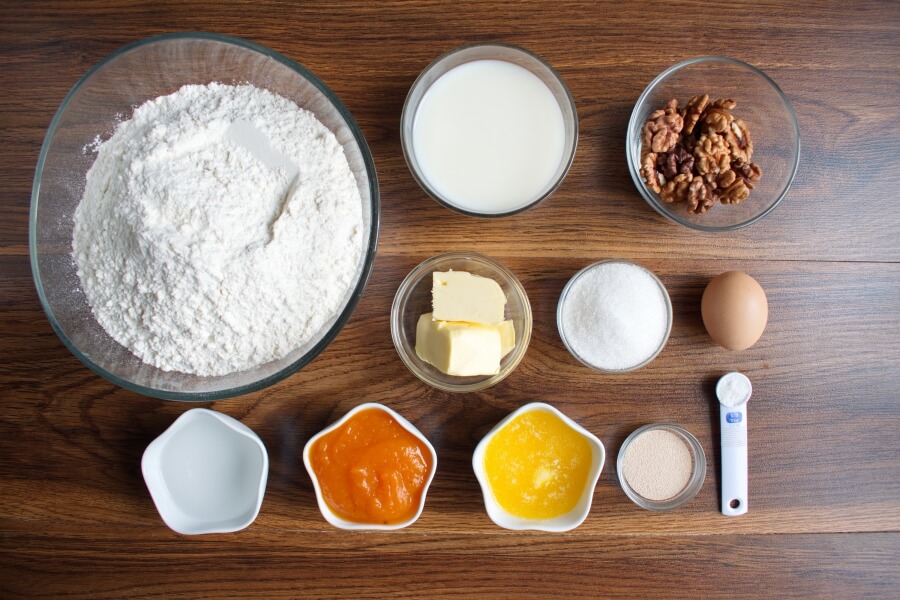 So, how to make Pumpkin Dinner Rolls?
Steps to make Pumpkin Dinner Rolls
Melt milk and butter

1

Add filling

1

Prepare yeast

5

Add egg

1

Add flour

5

Knead and rise

1h

Prepare rolls

20

Punch to remove air bubbles and knead for a few seconds. Cut the dough in half, then each half into about 15 pieces. Roll each piece into small ball shapes and flatten slightly, using the palm of your hand. Using a knife, cut 8 seems around the edge to mimic the flower petals on a pumpkin. Repeat with remaining dough.

Prepare to bake

20

Add egg wash

1

Bake

15

Add melted butter or honey

1

Serve