1 tbsp

Ginger

fresh grated

1 cup

Basmati rice

rinsed and drained

7 oz

Coconut milk

about half a can

Basil

fresh leaves, chopped, to garnish
Vegan Turmeric Coconut Basmati Rice
This Turmeric Coconut Basmati Rice recipe has it all – it tastes delicious, is easy to make, it's vegan and it contains turmeric. Turmeric is a really versatile spice that also has a whole lot of health benefits. It aids digestion, has anti-inflammatory properties and can relieve pain. It also turns anything it comes into contact with bright yellow. That means fun food, but it's not so fun if turmeric gets in your clothes. So wear an apron or else you'll never remove the stain!
To make this recipe I combine onion, ginger, garlic with turmeric and basmati rice and I cook it all in coconut milk and water until I have a pot of fluffy yellow rice. I serve this rice in little bowls topped with chopped fresh basil leaves.
To make my version of Turmeric Coconut Basmati Rice, you will need the following ingredients: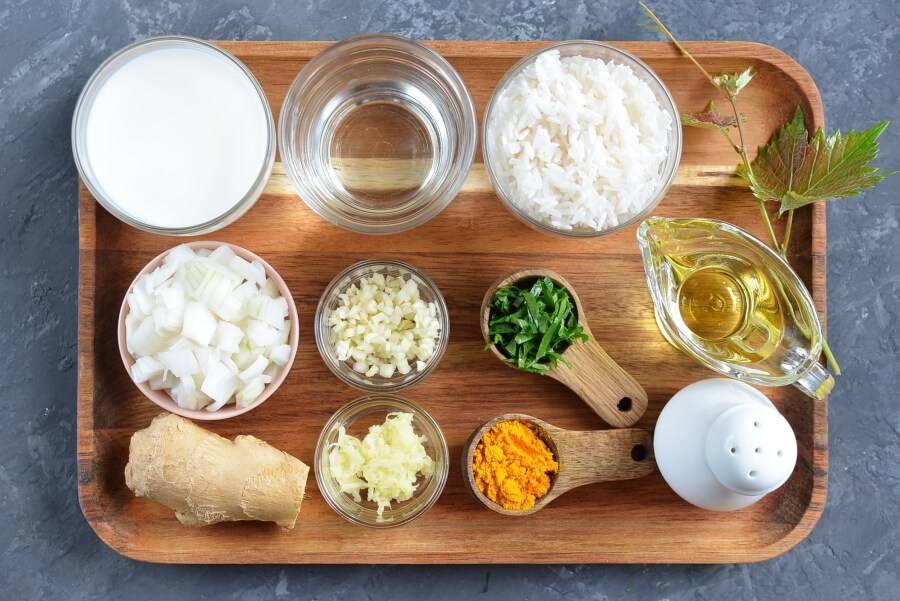 So, how do you make Turmeric Coconut Basmati Rice?
Steps to make Vegan Turmeric Coconut Basmati Rice
Sauté the onions, garlic, and ginger

6

Add the rice

2

Add coconut milk and water

5

Cook

18

Serve

1