1 lb

Chicken Breast

boneless, skinless

1/4 cup

All-purpose flour

1 tsp

Lemon pepper seasoning

1–2 cups

Asparagus

chopped

Optional sauce

Parsley

to taste, for topping
5 Ingredient Lemon Chicken with Asparagus
I call this 5 Ingredient Lemon Chicken with Asparagus my "Spring Chicken" dish because I always serve it with the most beloved spring vegetable: green asparagus. I love green asparagus because it's a delicious and healthy veggie. When it's in season and available at the market or grocery store, I use it regularly. Though this recipe in fact has more than 5 ingredients, but the main you need to take care of are chicken, lemons, asparagus, flour and lemon pepper seasoning.
To make this dish, I fry some chicken breast. In the same pan, I sauté the asparagus for a few minutes. My top tip is that you should never overcook this vegetable – it's supposed to be served al dente meaning that it should be slightly crisp when you bite it. For the last few minutes, I caramelize lemons in the cooking juices.
I serve this on the table in the cooking pan and allow everyone to serve themselves. This spring chicken is always a big hit!
To make 5 Ingredient Lemon Chicken with Asparagus, you will need the following ingredients: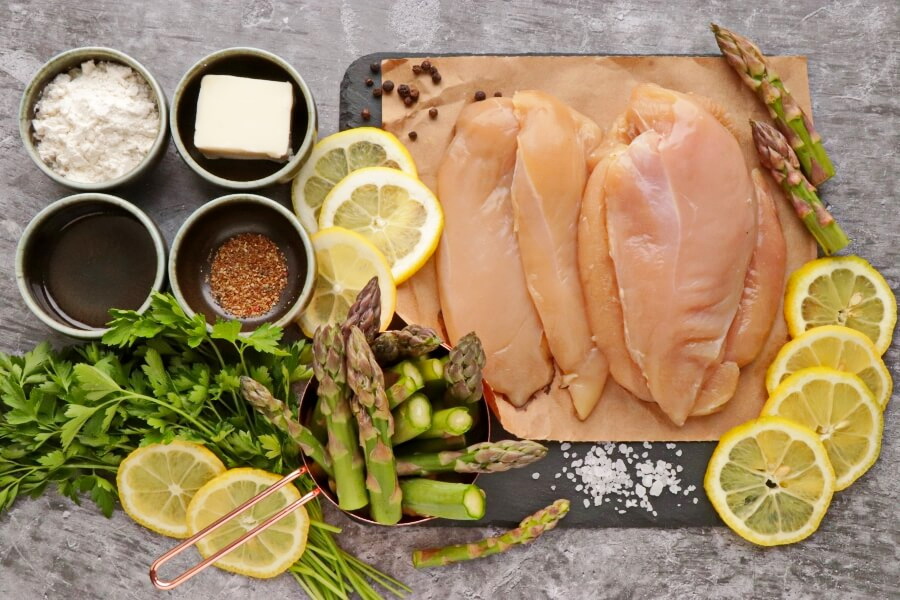 So, how do you make 5 Ingredient Lemon Chicken with Asparagus?
Steps to make 5 Ingredient Lemon Chicken with Asparagus
Prepare the chicken

5

Make the chicken coating

2

Coat the chicken

3

Cook the chicken

10

Set the chicken aside

1

Sauté the asparagus

3

Caramelize the lemon

4

Make the honey and butter sauce

1

Serve

1