6 tbsp

Breadcrumbs

with Italian seasoning if possible
Baked Chicken Nuggets
These healthy Baked Chicken Nuggets are an all-time family favorite, equally popular amongst both kids and adults in my household! The cheesy bread coating turns a beautiful golden color when baked in the oven, while the chicken inside remains juicy and succulent.
SO simple to make and I'm so much happier to have my kids tucking into these than the ones you get in a fast-food joint. I usually serve alongside a big salad, along with ketchup and BBQ sauce of course!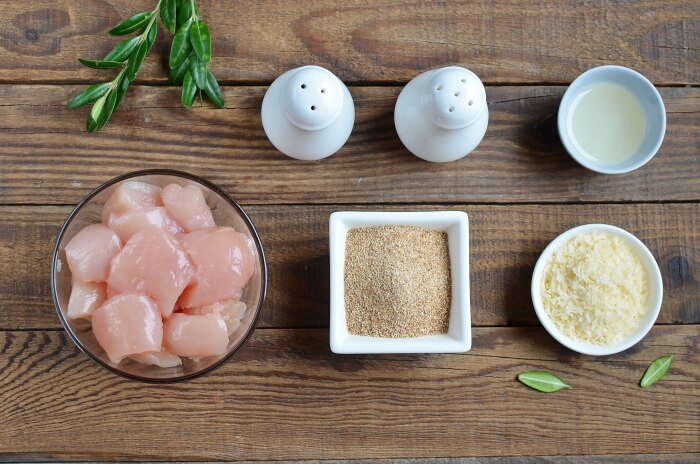 So, how to cook Baked Chicken Nuggets?
Steps to make Baked Chicken Nuggets
Prepare the oven

Preheat oven to 425°F. Use an olive oil spray to lightly coat a baking sheet.

Prepare the coating

2

Prepare the chicken nuggets

5

Sprinkle the salt and pepper over the chicken chunks and toss to coat. Dip each chunk into the olive oil and turn to coat. Then dip the chunk in the breadcrumbs, again ensuring it is fully coated. You can do this with a few of the chunks at a time. Place the covered nuggets onto the oiled baking sheet.

Bake the nuggets

15

Serving Baked Chicken Nuggets