For cakes:

1 medium head

Cauliflower

cored and cut into florets

1 cup canned

Chickpeas

rinsed and drained

¼ cup

Shallots

finely chopped

¼ cup fresh

Cilantro

snipped

3 tbsp

Parmesan cheese

grated

½ tsp

Black pepper

ground

For Green Pea Pesto:

½ cup

Parsley

snipped fresh flat-leaf Italian

2 tbsp

Parmesan cheese

grated

2 tbsp

Shallots

chopped (1 medium)
Cauliflower Rice Cakes
These Cauliflower Rice Cakes are a tasty and scrumptious patty. Enjoyed as it is with a dollop of green pea pesto on top as inside your bun for a veggie burger.
You can also garnish with sour cream or even melt some cheddar cheese over the top. It works as a delightful, quick, grab 'n go snack. Whatever you enjoy, I suggest keeping a batch of these around for any occasion.
To make Cauliflower Rice Cakes, you will need the following ingredients: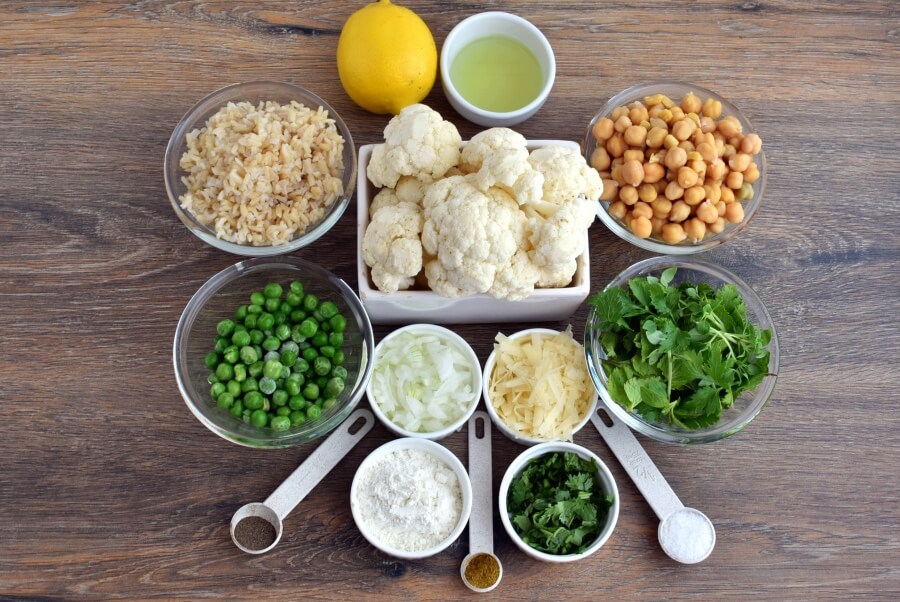 So, how to make Cauliflower Rice Cakes?
Steps to make Cauliflower Rice Cakes
Cook cauliflower

35

In a large saucepan, bring ½ cup water to a boil with cauliflower and salt. Once boiling, reduce the heat and simmer, covered, for about 30 minutes until cauliflower is very tender, stirring occasionally and adding more water if needed. Uncover and cook for a further 5 minutes until most of the water has evaporated.

Mash cauliflower

3

Mash garbanzo beans

2

Prepare cauliflower batter

5

Chill

2h

Preheat oven and prepare baking sheet

5

Preheat oven to 425 °F and line a baking sheet with parchment paper.

Shape cakes

5

Dip cakes in flour

5

Fry cakes

10

Bake cakes

5

Prepare green pea pesto

5

Place the peas, parsley, basil, mint, the water, Parmesan cheese, shallot, lemon juice, salt, pepper, and cayenne pepper, if using, into a food processor. Cover and pulse just enough until desired consistency. If more water is needed, add 1 tablespoon at a time. If not serving immediately, you may store pesto in an airtight container in the refrigerator for up to 2 days.

Serve