20 (about 10oz)

Mushrooms

Champignon mushrooms, white button or cremini mushrooms

4 to 5 cloves

Garlic

minced

2 teaspoons

Rosemary

chopped

2oz

Cheese

sharp cheddar, mozzarella, Swiss or a combination

3 tbsp

Breadcrumbs

panko or regular breadcrumbs

1 tbsp

Parsley

chopped for serving, optional
Cheese Stuffed Mushrooms
Hey, cheese fans! Try these indulgent, garlicky Cheese Stuffed Mushrooms, they're super easy to make! Loaded with your favorite cheese, garlic, and herbs and topped with a crispy crumb, they are packed with flavor.
This is one of my favorite sides to make alongside a steak or chicken fillet and I also love to serve them up as an appetizer at game night or for a dinner party. They are definitely a winning crowd-pleaser! You can sub the cheddar for a different cheese if you prefer and feel free to add more garlic for extra punch!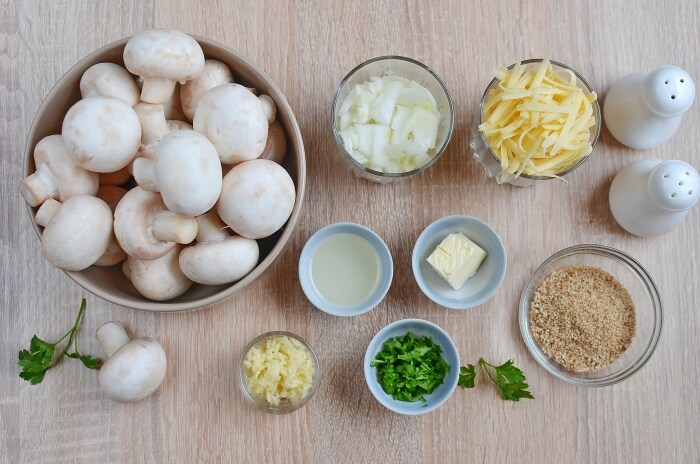 So, how to cook Cheese Stuffed Mushrooms?
Steps to make Cheese Stuffed Mushrooms
Preheat the oven

2

Heat the oven to 375°F. Lightly grease a baking sheet or shallow baking dish.

Clean the mushrooms

5

Chop the stalks

5

Prepare the mushrooms for baking

3

Make the stuffing

8

Place a skillet over a medium heat and melt the butter, before adding the onions, diced stalks and a pinch of salt. Fry gently for 3-5 minutes until the onions have become translucent. Add the garlic and herbs to the pan and cook for another 2 minutes, stirring regularly. Remove the mixture to a bowl.

Cook the crumb

1

Stuff the mushrooms

5

Bake the mushrooms

20

Serving Cheese Stuffed Mushrooms

3