2 cups

Mozzarella

shredded

¼ cup

All-purpose flour

or up to 1/2 cup flour for creamier potatoes

2 tbsp

Olive oil

or canola oil to sauté
Cheesy Mashed Potato Pancakes
These Cheesy Mashed Potato Pancakes are a delicious way to use up leftover mashed potato. Can you think of a better combination than mashed potato, cheese, chives encased in a crispy golden breadcrumb coating? Neither can I! That's why you've got to try this recipe!
I always use leftover mashed potato for this recipe. If you don't have any leftover mash, you can make some especially by filling a large pot with water. Add a tablespoon of salt and place some peeled quartered russet potatoes in the water. Cook until the potatoes are soft when pierced with fork. Drain well and mash in 4 tablespoons of butter and leave to cool to room temp.
To make Cheesy Mashed Potato Pancakes, you will need the following ingredients: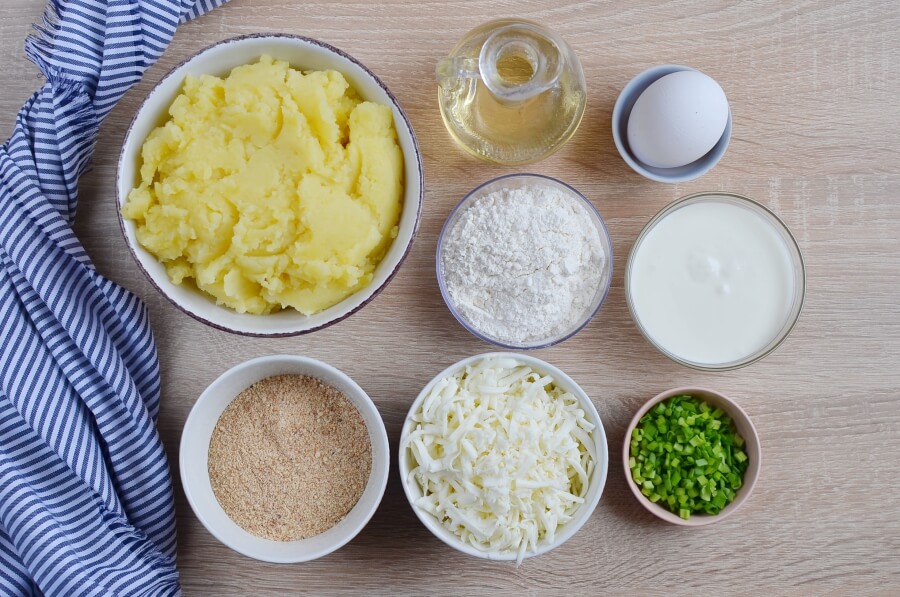 So, how do you make Cheesy Mashed Potato Pancakes?
Steps to make Cheesy Mashed Potato Pancakes
Combine mashed potato, mozzarella, egg, flour and chives

5

Make patties

15

Coat with breadcrumbs

15

Heat oil

2

Cook the pancakes

20

Serve