1 ½ cups

Whole-wheat pastry flour

wheat bran ¼ cup

Wheat bran

1 cup

Plain yoghurt

low-fat

½ cup light

Brown sugar

packed

1 (about ½ cup)

Bananas

medium, ripe, mashed

½ cup

Dried cherries

chopped
Cherry Gingerbread Muffins
These Cherry Gingerbread Muffins are easy, delicious and super wholesome. I often make a batch at the weekend and give them to the kids when they look for sweet treats during the week. These muffins are quite healthy because they contain whole-wheat flour and they're very easy to make. You can whip up and cook a batch in under an hour.
Despite the long list of ingredients, these muffins are quite easy to make. I start by combining the dry ingredients and wet ingredients in separate bowls. I mix these together to create the muffin batter. Just before cooking, I stir through the cherries, molasses, cinnamon, ginger, and allspice. Then bake for 22 minutes and wait for them to cool!
To make Cherry Gingerbread Muffins, you will need the following ingredients: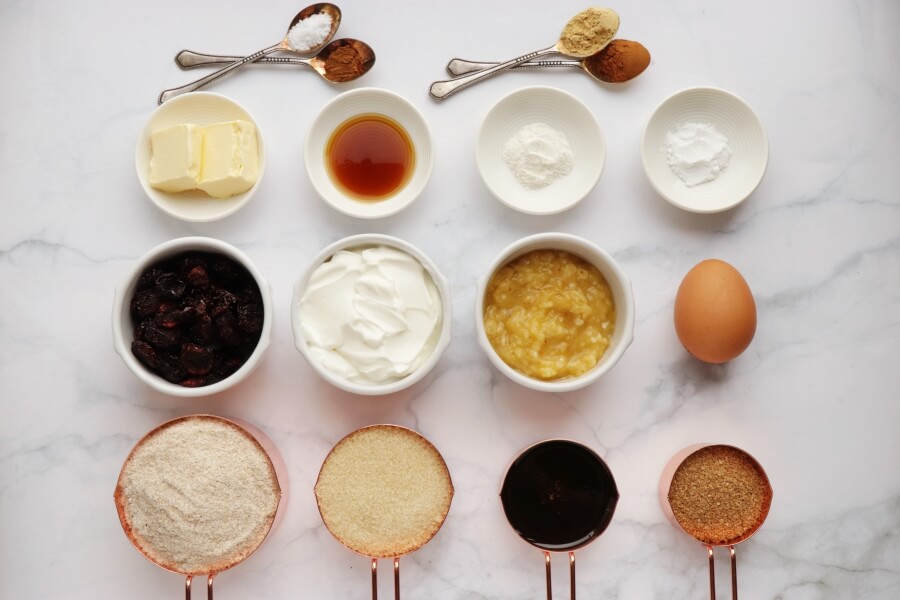 So, how to make Cherry Gingerbread Muffins?
Steps to make Cherry Gingerbread Muffins
Heat the oven and prepare a muffin tray

5

Combine dry ingredients together

1

Melt butter

2

Mix wet ingredients together

1

Add wet ingredients to dry ingredients

1

Add remaining ingredients to the muffin batter

1

Spoon the batter into the muffin tray

2

Bake

22

Cool

25

Serve