For lemon and sugar crepes:

To serve:
Easy French Crepes
Try my Easy French Crepes and bring a touch of Paris to your kitchen! Crepes are the French version of our pancakes, but with a few important differences – double the size but thin as a wafer, with crispy edges and soft buttery centres, they are great with both sweet AND savory fillings. My absolute favorite filling is lemon juice and sugar, my kids always ask for Nutella and my husband likes to keep his American-style, with maple syrup. But we sometimes mix it up with some savory fillings like sauteed mushrooms and cheese, or cream cheese and roasted capsicums. They are so versatile, you can use just about anything!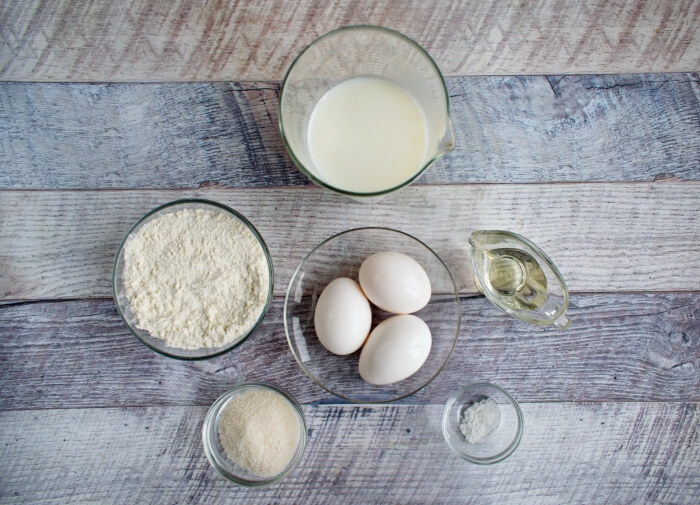 So, how to make Easy French Crepes?
Steps to make Easy French Crepes
Combine the wet ingredients

3

Combine the dry ingredients

In a large bowl, mix together the flour, sugar and salt.

Make the crepe batter

5

Leave the batter to rest

20

Prepare the crepe pan

Cook the first crepe

Flip the crepe

After about a minute, the edges of the crepe will start to brown and go crisp. At this point, gently flip the crepe over, using a spatula (or in the air if you are brave!) and cook for another 15-30 seconds until you start to see circles of caramelization in the centre of the crepe. Tip the crepe out onto a plate.

Repeat cooking

20

Continue cooking the crepes until the batter has been used up, remembering to stir the batter each time and brush the pan with a little more softened butter.

Warm the crepes

1

If the crepes need warming up, place another plate over the top of them and put in the microwave for 30 seconds before quickly removing the plate and serving. Alternatively, put the oven on a very low setting while you are making the crepes and put a plate inside, adding each crepe to the oven as you make it.

Serving lemon and sugar crepes

You can serve the crepes with your filling of choice, but if you would like to make lemon and sugar crepes, place one crepe flat on a plate. Pour over a little of the lemon juice and sprinkle over some of the sugar. Fold the crepe in half, and then half again. Place a lemon wedge and spoonful of whipped cream on the side to serve.