3 cups

Orecchiette

(tiny disk) pasta

2

Zucchini

small, thinly sliced

1 pint

Cherry tomatoes

cut in half

2

Lemon

grated peel and juice

1 ½ cups

Feta cheese

crumbled

½ cup

Basil

chopped fresh leaves (plus sprigs for garnish, optional)

½ cup

Pine nuts

toasted, optional
Lemon-Pignoli Zucchini Pasta
Lemon-Pignoli Zucchini Pasta is an Italian cold entree dish that I love to make in the summer. This pasta dish combines many mediterranean flavors such as tomatoes, feta cheese, lemon and basil. It's really easy to make and it's a great dish to prepare in advance as it will keep in the refrigerator for up to 24 hours.
An optional tip is to toast the pine nuts before adding them to the dishas it will enhance the flavor. To do this, place the pine nuts in large pan. Place the pan over medium heat for about 5 minutes. Shake the pan frequently to ensure the pine nuts cook evenly.
To make my version of Lemon-Pignoli Zucchini Pasta, you will need the following ingredients: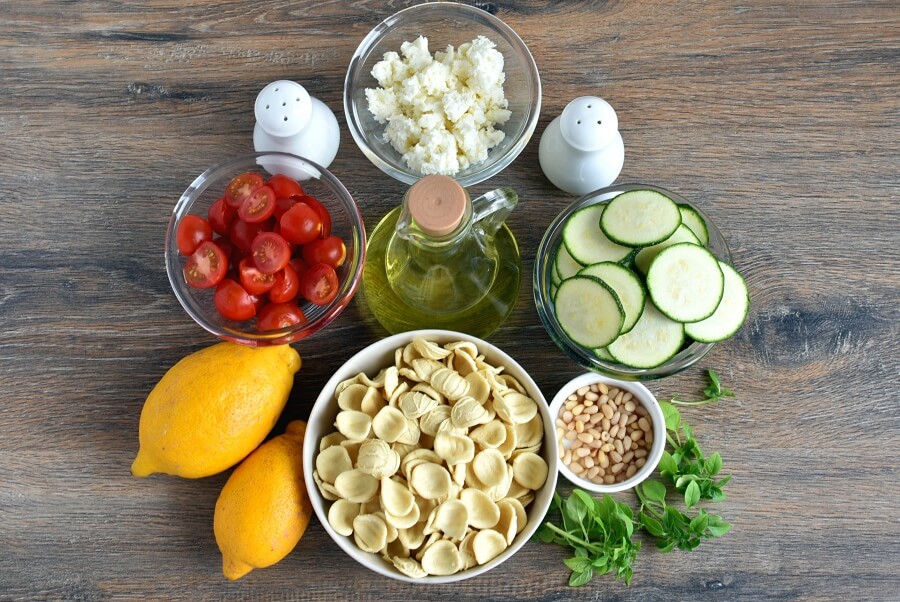 So, how do you make Lemon-Pignoli Zucchini Pasta?
Steps to make Lemon-Pignoli Zucchini Pasta
Cook pasta

10

Drain and rinse

1

Assemble the salad.

2

Add pasta

1

Stir in the feta, basil and pine nuts

1

Serve