2 large

Red bell pepper

cut in half vertically, leaving stem intact seeds and membranes removed

2 large

Yellow bell pepper

cut in half vertically, leaving stem intact seeds and membranes removed

1 lb

Ground turkey

lean (at least 93%)

1 tbsp

Garlic

finely chopped

1 cup garlic

Pasta sauce

organic roasted

¾ cup

Chickpeas

drained and rinsed

1 jar (6 oz)

Artichoke hearts

marinated, drained, chopped

¾ cup

Mozzarella

reduced-fat, shredded

1 package (4 oz)

Feta cheese

crumbles

2 cups Plum

Tomatoes

(Roma), chopped

⅓ cup

Basil

fresh leaves, chopped
Mediterranean Stuffed Peppers
Mediterranean Stuffed Peppers might just be my most cooked recipe this year. I've made them so many times and each time I try a different flavor combination. As soon as I hit this mix, I knew it was the one! I think the addition of feta cheese really elevates the stuffing. 
To make these stuffed peppers, I start by blanching them in boiling water. I then cook some ground turkey with garlic and seasoning. I mix the turkey with some pasta sauce to make the stuffing mixture. Once that's prepared, I stuff the pepper halves and then bake them in the oven. These take a while to cook but they are worth every minute! 
To make my Mediterranean Stuffed Peppers, you will need the following ingredients: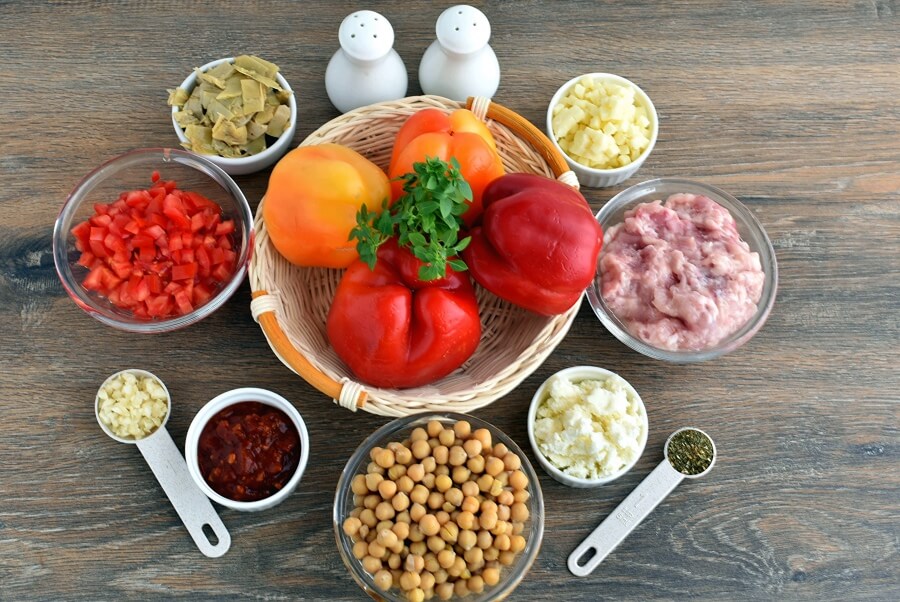 So, how do you make Mediterranean Stuffed Peppers?
Steps to make Mediterranean Stuffed Peppers
Heat the oven and prepare a pan

5

Blanch the pepper halves

3

Cook the turkey

7

Make the stuffing mix

2

Stuff the peppers

2

Cover and bake

35

Make a tomato and basil topping

1

Serve