1lb

Potatoes

floury white potatoes, chopped into chunks

4oz

Wheat flour

plus extra for dusting
Pan-Fried Potato Gnocchi
Looking for an interesting new side dish? Try these Pan-Fried Potato Gnocchi as a sophisticated alternative to pasta! I used to be a bit afraid of gnocchi, I mistakenly assumed it was complicated to make and was always worried they would turn out stodgy.
This recipe is the exact opposite – ever so simple and produces gorgeous light little pillows of potato, fried in butter and fragrant with rosemary. It's a great substitute for pasta and will go great with all your favorite pasta sauces. Crisp, golden and wonderfully light side dish!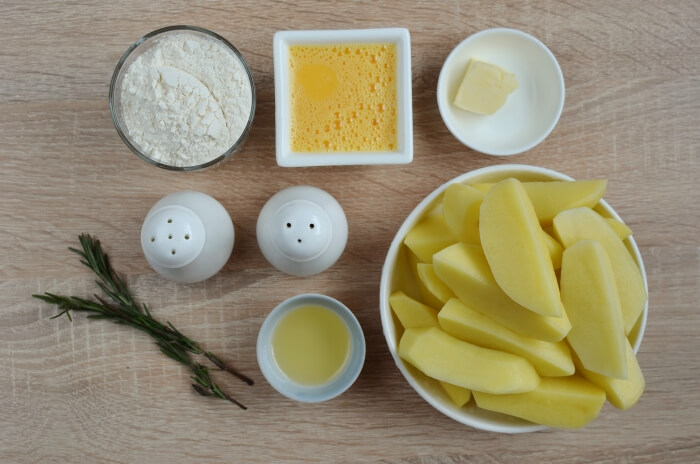 So, how to cook Pan-Fried Potato Gnocchi?
Steps to make Pan-Fried Potato Gnocchi
Cook the potatoes

20

Mash the potatoes

3

Prepare the water to cook the gnocchi

15

Place a large pan of water over a high heat and bring to the boil.

Make the gnocchi dough

3

Meanwhile, add the egg, salt and pepper to the potato and mix together. Sift the flour over the mixture and combine it to make a dough. The dough should be dry but should retain its shape and not crumble when molded. Dust a work surface with flour. Take the dough and knead it for a minute until you have a smooth dough.

Shape the gnocchi

15

Cook the gnocchi

3

In batches, cook the gnocchi in the boiling water for about a minute until they bob to the surface of the water. Using a slotted spoon, remove from the pan and place on a tray to cool. Sprinkle with the olive oil and toss to coat. If making in advance, you can stop at this point and leave the gnocchi in the fridge for up to a day.

Fry the gnocchi

20

Serving Pan-Fried Potato Gnocchi