For the loaf

2 1/3 cups

Self-rising flour

3.5 ounces

Pistachio nuts

For the lime-cream cheese frosting
Pistachio, Lime & Zucchini Loaf
This Pistachio, Lime & Zucchini Loaf recipe is a my go-to loaf cake. I love a good loaf cake and this amazing limey, nutty one is no exception!
It's hard to go wrong with loaf cakes – that's why I usually choose to make one when I am baking for a crowd. I made this cake for a recent coffee morning I hosted for my book club. They loved the cake and were so surprised when I told them that one of the main ingredients was zucchini! People are not used to adding vegetables to sweet treats, but zucchini in this cake works in the same way as carrot does in a carrot cake – it adds moisture! And I firmly believe that adding veggies makes sweet treats healthier!
Prepping this cake couldn't be easier – you simply mix the wet ingredients together before. Add the zucchini and then stir in the dry ingredients. Make sure you allow for cooling time as the cake needs to be completely cold before adding the frosting.
To make Pistachio, Lime & Zucchini Loaf, you will need the following ingredients: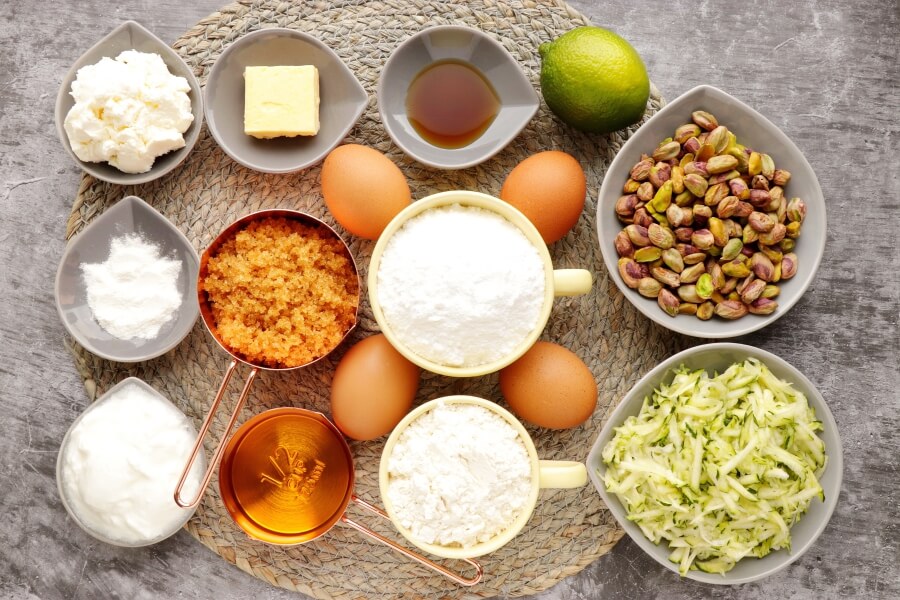 So, how to make Pistachio, Lime & Zucchini Loaf?
Steps to make Pistachio, Lime & Zucchini Loaf
Heat the oven and prepare a tin

5

Combine wet ingredients

2

Mix in the zucchini

2

Stir in the dry ingredients

2

Bake

50

Cool

30

Make the frosting

2

Frost

2

Serve