1 cup

Cabernet Merlot Wine

1

Oranges

zested and juice reserved

3 1/2 tbsp

Unsalted butter

375g pack of all-butter

Frozen puff pastry
Quince Tarte Tatin
Quince Tarte Tatin is my seasonal take on the classic French tarte tatin dessert. A tarte tatin is an upside-down fruit tart. It is usually made with apples, but I use quince fruit in this version. The quince is caramelized with sugar and butter. While cooking, the pastry pie crust is placed on top and the tart is baked in the oven. Once the tarte tatin comes out of the oven, it is inverted and served quince up on a plate.
Start by poaching quince chunks in wine and water with spices. If quince isn't in season you could make this tart with pears or even plums or peaches in summer. I use store bought pastry for the lid (which becomes the base). I make a syrup from the cooking liquid which I pour over the tarte when serving. Yum!
To make Quince Tarte Tatin, you will need the following ingredients: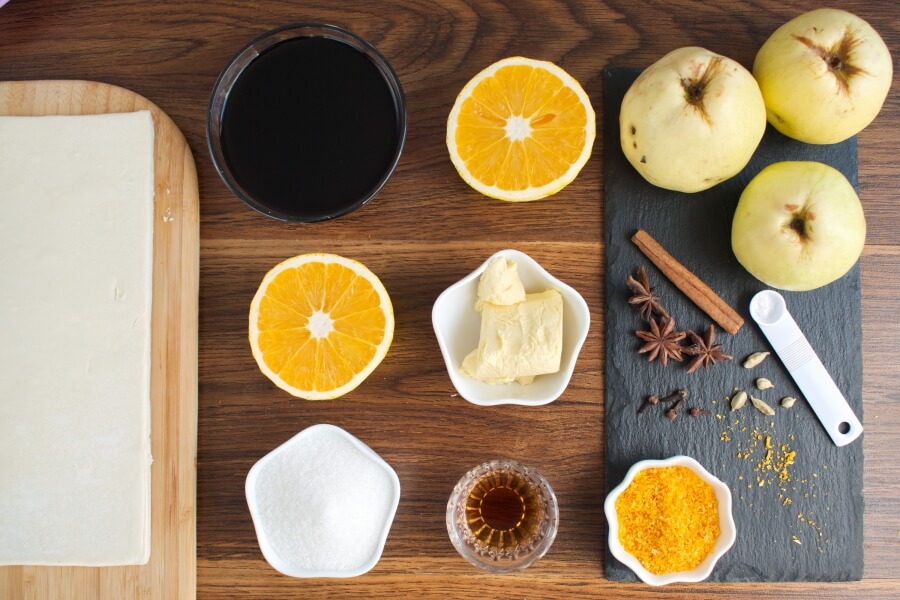 So, how to make Quince Tarte Tatin?
Steps to make Quince Tarte Tatin
Prepare the quince

5

Bring to a boil and simmer

20

Drain the quince

5

Make syrup

15

Make the caramel

5

Add the quince to the caramel

5

Heat the oven

5

Top with pastry

5

Bake

40

Invert

Serve