For the cake:

15.25 oz box

White cake mix

(plus the ingredients on the box)

14 oz can

Condensed milk

sweetened

For the topping:

1 ½ cups

Heavy whipping cream

Raspberries

for decoration

2 tbsp

Almond flakes

for decoration
Raspberry Almond Poke Cake
Raspberry Almond Poke Cake is one of the best summer cakes to make! What is a poke cake I hear you ask? Well, a poke cake is a cake that you poke holes in and when you put a topping on the cake, it sinks into the holes making delicious pockets of extra topping throughout the cake. 
Start by making a cake – I use a box of white cake mix for this. When the cake comes out of the oven, poke medium sized holes in it and pour over sweetened condensed milk. Once that has sunk into the cake, pour over homemade raspberry puree. Refrigerate and when the cake has completely cooled, top with a stiff whipped cream mixture. Serve cold, straight from the refrigerator.  
To make Raspberry Almond Poke Cake, you will need the following ingredients: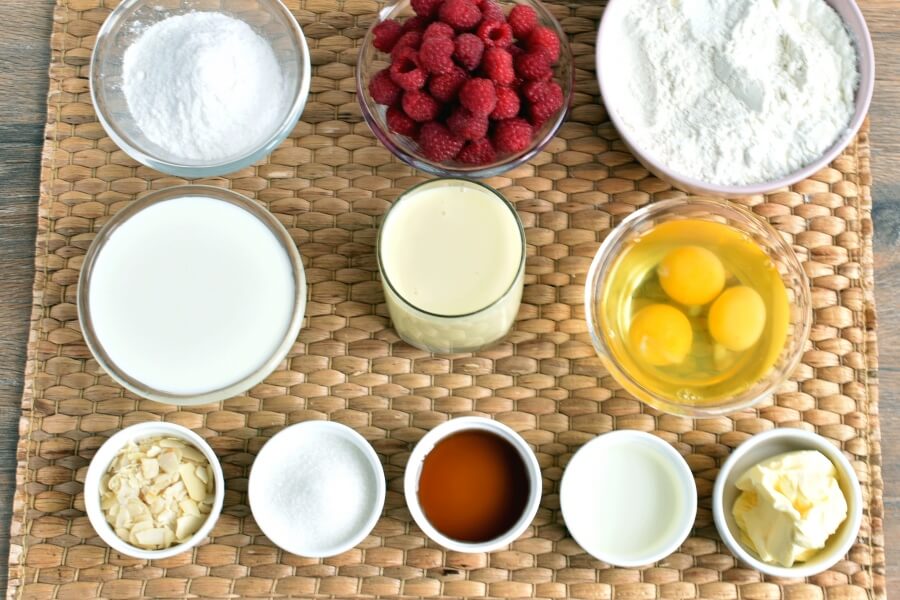 So, how to make Raspberry Almond Poke Cake?
Steps to make Raspberry Almond Poke Cake
Heat the oven and prepare a baking pan

5

Mix the cake

2

Bake

25

Poke holes in the cake

1

Pour the sweetened condensed milk over the cake

5

Make raspberry puree

1

Puree the raspberries

2

Refrigerate

2h

Refrigerate the cake for 2-3 hours so it can cool completely and continue to soak up the condensed milk and raspberry puree.

Make the topping

2

Place the topping on the cake

2

Serve