For the soup:

1 tbsp

Rosemary

fresh, chopped

¼ tsp

Salt

plus more to taste

4 lbs

Butternut squash

whole, unpeeled, cut in half lengthwise, seeds removed

1

White onion

large, chopped

For garnish:
Roasted Butternut Squash Soup
This Roasted Butternut Squash Soup is easy to prepare yet delivers tons of flavor. The squash is first roasted in the oven to caramelized perfection along with garlic cloves, olive oil, rosemary, honey, a pinch of cayenne pepper and salt. And then puréed with chicken stock and white onions sautéed in butter to create an extra creamy bowl of soup without adding any cream. Top each serving with toasted pine nuts and crispy pancetta, adding a crunchy contrast to the soup. Sprinkle with fresh parsley, and enjoy with crusty bread on the side. It's fantastic!
The recipe for this butternut squash soup is simple. The first step is to roast the squash. While the squash roasts, sauté the onions in butter. Once the butternut squash is done, it takes only 5 minutes to finish the soup up. Scoop up the butternut squash flesh into the pot with the sautéed onions. Squeeze the garlic cloves out and add to the pot too. Use an immersion blender to puréе the soup, adding the chicken stock to thin the soup to your taste. Reheat the soup and serve with toppings of choice. Enjoy!
To make the Roasted Butternut Squash Soup, you will need the following ingredients: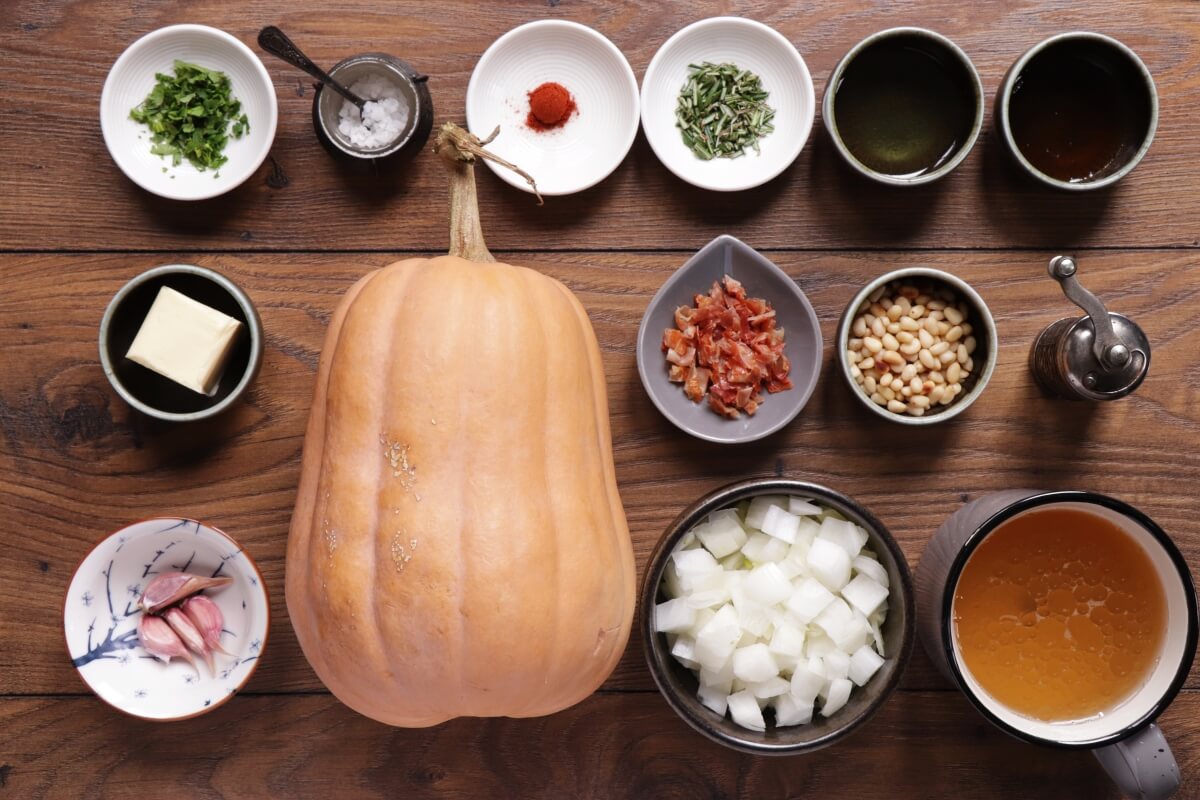 Steps to make Roasted Butternut Squash Soup
Preheat oven

Preheat the oven to 375 °F.

Prepare glaze for brushing

1

Prepare butternut squash

2

Roast

45

Sauté onions

7

Add butternut squash flesh, garlic, and chicken stock

5

Puree

2

Serve