For the dried fruits filling:

60 g

Pistachio nuts

1.7 oz

80 g

Candied orange peel

1.4 oz

100 g

Dried prunes

3.4 oz, pitted

For the dough:

250 g

All-purpose flour

1.9 cups

250 g

Bread flour

1.9 cups

40 g

Egg yolks

or 2, chilled

150 g

Eggs

or 4 small, chilled

30 g

Honey

1 oz, or trimoline

125 g

Whole milk

0.6 cup, chilled

1 g

Black pepper

1/4 tsp, optional

1.5 g

Ground Allspice

1/2 tsp

15 g

Instant yeast

or 30g fresh yeast

230 g

Butter

2 sticks, chilled and cubed

For the almond paste:

500 g

Almond meal

1.1 lb, finest

40 g

Corn syrup

1.4 oz, or glucose syrup

70 g

Honey

2.3 oz, or trimoline

a few drops

Almond extract

optional
Christmas Stollen with Marzipan
Ah Stollen! One of my favorite things about Christmas and it always brings back such happy memories of visiting my grandmother around the holiday season. She would always have a traditional 'Christstollen' – a yeasty, bready cake with almond paste and dried fruits and coated with fine powdered sugar.
Traditionally, Stollen is made ahead of time and allowed to age for a minimum of three weeks. In this recipe I suggest making the dried fruits filling 2-4 weeks before making the stollen. The almond paste can also be made up to three months in advance. For best results, bake your Stollen at least a day ahead.
To make Stollen, you will need the following ingredients: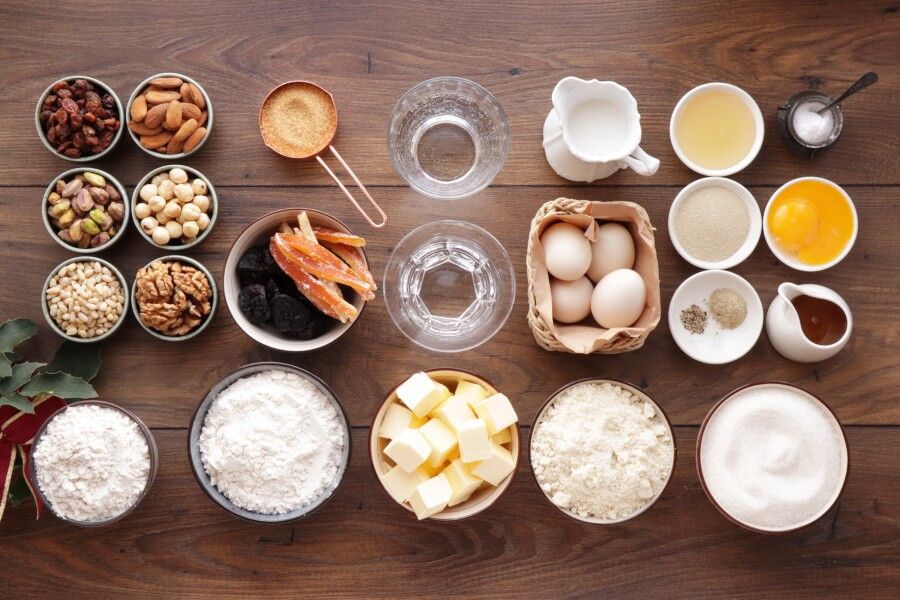 So, how to make Stollen?
Steps to make Christmas Stollen with Marzipan
Make the filling

3

Chop the walnuts and prunes and dice the candied orange

5

Combine all ingredients

2

Store for 2-4 weeks

4 weeks

Make the dough

2

Add dry ingredients

20

Mix in butter

10

Add the dried fruits filling

1h 30m

Make almond paste

5

Mix almonds and syrup

5

Place the almond meal in the bowl of a stand mixer with the paddle attachment. Pour the hot syrup over the meal and mix together on a low speed, immediately add the trimoline or honey, Kirschwasser, and almond extract. Mix on medium-low speed for 5 minutes, scraping the sides of the bowl occasionally.

Shape the paste into a cylinder

5

Heat the oven

5

Preheat the oven to 350 ºF.

Assemble the Stollen

35

Combine dough and almond paste

5

Leave dough to rise again

1h 30m

Bake

2h 45m

Serve