For the sorbet

½ cup Dutch process

Cocoa powder

Dutch process

For the cherry compote

1 lb

Cherries

fresh tart, pitted and, halved
Vegan Chocolate Cherry Sorbet
This Vegan Chocolate Cherry Sorbet recipe is one for the adults! The words sorbet and decadent don't often go together as we are used to lighter fruity sorbets. But this dark chocolate and tart cherry combination tastes wonderful! Make it for your summer dinner parties and wow your guests! Just remember to factor in the chilling time.
I make this sorbet in two parts. First I prepare the sorbet by bringing cherry jam, cocoa, sugar and salt to a boil with some water which I allow to cool and chill overnight – this is very important to allow the flavors to combine. The next day, I use my ice cream maker to freeze the sorbet. I serve this amazing dish with a homemade cherry compote.
To make Chocolate Cherry Sorbet, you will need the following ingredients: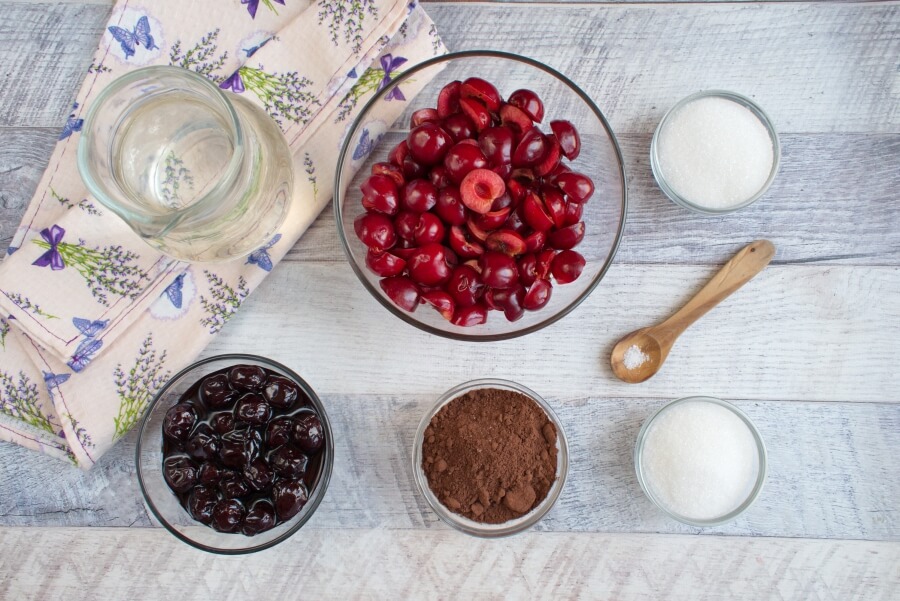 So, how do you make Chocolate Cherry Sorbet?
Steps to make Vegan Chocolate Cherry Sorbet
Heat sorbet ingredients

1

Slowly add the water

2

Cool and refrigerate

4h

Freeze in an ice cream maker

1h

Make the cherries and sugar

15

Serve