3.5 lb seeded

Butternut squash

cut into 1 inch-wide and 2 inch-thick pieces

1 tbsp

Olive oil

extra virgin

4

Spring onions

green part only, washed and finely sliced

½ cup roasted

Capsicum

finely sliced

For the dressing

3 tbsp

Olive oil

extra virgin
Vegan Roasted Pumpkin Salad
Make the perfect lunchtime salad with this Roasted Pumpkin Salad that works just perfectly as a total meal for you. If you are like me and just love butternut pumpkin, then you won't need anything else to go with this salad. Sometimes I enjoy some feta cheese with it, but besides that, the roasted butternut topped with finely sliced spring onions and roasted capsicum, drizzles of balsamic and sesame oil dressing and sprinkles of toasted pine nuts, feeds my hunger with delight.
To make Roasted Pumpkin Salad, you will need the following ingredients: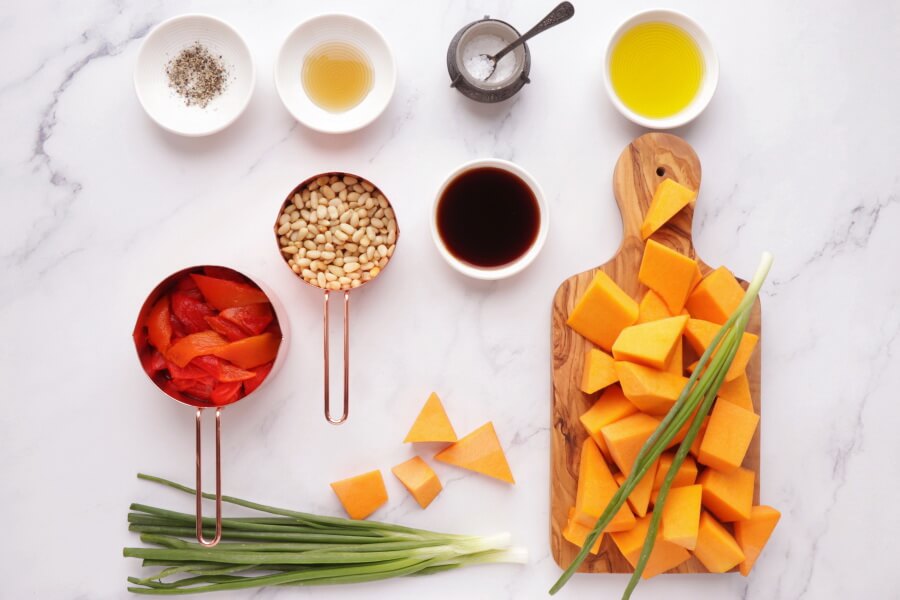 So, how to make Roasted Pumpkin Salad?
Steps to make Vegan Roasted Pumpkin Salad
Preheat oven and prepare baking sheet

5

Season pumpkin

5

Roast

30

Toast pine nuts

3

Prepare dressing

1

Serve

1