1 cup

Beets

coarsely shredded peeled raw

1 cup

Carrots

coarsely shredded

1 1/2 cups fresh

Beet juice

store-bought

For the garnish

4-6 sprigs of

Dill

to garnish
Almost-Instant Chilled Borscht
Almost-Instant Chilled Borscht does exactly as it says on the tin – it is so quick to prepare. Under 30 minutes to be precise and that includes chilling time. Borscht is a vibrant Eastern European soup made from beetroots. The beets also give this soup its bright red color.
Start this borscht by frying some onions. Then add some beets and carrots and continue to cook. Finally, add some vinegar and beet juice. Place in a bowl in iced water to chill. Serve garnished with horseradish, sour cream and sprigs of dill.
To make this Almost-Instant Chilled Borscht, you will need the following ingredients: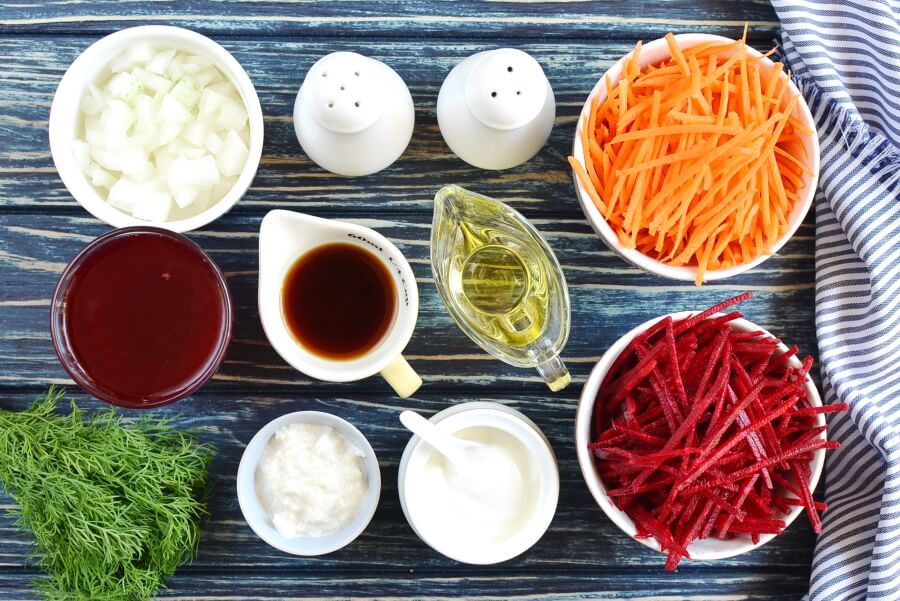 So, how do you make Almost-Instant Chilled Borscht?
Steps to make Almost-Instant Chilled Borscht
Fry onion

5

Add the beets and carrots

6

Add vinegar and beet juice

3

Chill the borscht

10

Serve

2