Caramel:

1 cup

Condensed milk

sweetened

Chocolate glaze:

3 tbsp

Condensed milk

sweetened
Caramel Turtle Pie
If you're in the mood for something luxuriously sweet, try my Caramel Turtle Pie! I have a feeling turtle pie might not be familiar to everyone. Turtles are a little turtle-shaped chocolate candy with a pecan and caramel filling. I'm not clear on the history, but at some point a very smart cook thought that chocolate, caramel, and pecan would also work great as a pie, and so the Turtle Pie was born!
A Turtle Pie usually has the classic caramel, chocolate and pecans drizzled and scattered over the top of a cheesecake filling, but I went a bit further and turned those three key ingredients into different layers within the pie – have a go and see for yourself how delicious it turns out!
For the pie crust I use this Pie Crust Mix recipe.
To make Caramel Turtle Pie, you will need the following ingredients: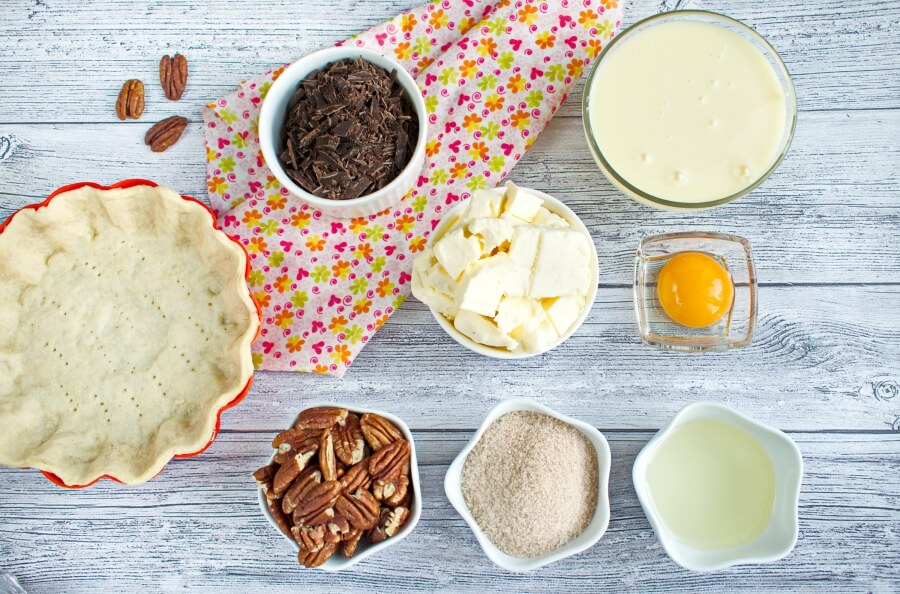 So, how to make Caramel Turtle Pie?
Steps to make Caramel Turtle Pie
Add the pecans to the pie

1

Cook the filling

5

Beat the filling

1

Fill the pie crust

1

Chill

1h

Melt the butter and chocolate

2

Add the condensed milk

1

Cool the mixture

3

Add the egg yolk

1

Top the pie with the chocolate

1

Chill

1h