0,5 pound

Andouille sausage

cut into 1/4-inch-thick slices

1

Chicken Breast

skinned bone-in

½

Green bell pepper

chopped

1 tbsp

Worcestershire sauce

Garnish:
Chicken and Sausage Gumbo
This Chicken and Sausage Gumbo is a classic Louisiana recipe which I love to make around Mardi Gras. Gumbo is a flavorful stew which combines several varieties of meat or seafood with a sauce or gravy. I like to use a combination of andouille sausage and chicken breasts in my gumbo.
To make this start by cooking the sausage until browned. Cook the chicken in the reserved drippings. Make a roux from the drippings and flour. A roux is a blend of equal amounts of flour and fat cooked together to thicken sauces. This recipe requires the roux to be cooked for over 20 minutes until it is chocolate colored. Add chopped vegetables, water, chicken, garlic and seasonings. Simmer for an hour and remove the chicken. Add the sausage and green onions. Bone the chicken breasts and cut the meat into strips. Return the chicken to the pot and remove and discard the bay leaves. Before serving, sprinkle with filé powder, if desired. Filé powder is a spicy herb made from dried and ground leaves of the sassafras tree. Serve the gumbo over hot cooked rice.
To make Chicken and Sausage Gumbo, you will need the following ingredients: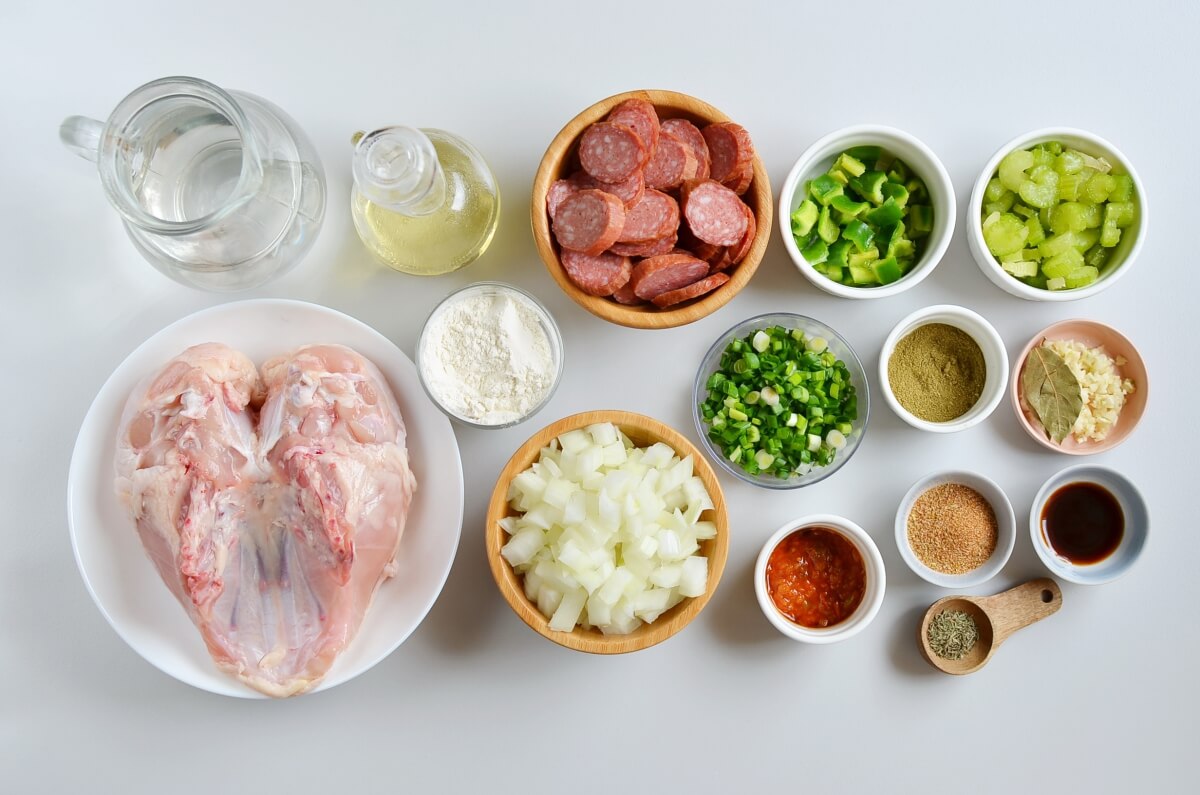 Steps to make Chicken and Sausage Gumbo
Cook sausage

5

Cook chicken

5

Make roux

20

Cook onions, bell pepper, and celery

8

Make sauce

3

Add chicken and seasoning

60

Remove chicken

10

Add sausage and green onions

60

Stir in boned chicken meat and heat

10

Add filé powder

1

Serve

2