3 tbsp

Olive oil

separated

½

White onion

roughly chopped

4 cloves

Garlic

peeled and smashed

1 ½ cups

Chicken broth

divided

For chicken seasoning:
Chicken Spatchcock
This easy Chicken Spatchcock recipe shows how to cook the chicken with double the deliciousness. The result is a fragrant, juicy chicken with crispy skin that makes the house smell amazing. The spatchcock method – removing the backbone and flattening the bird – ensures that the chicken cooks faster and more evenly. I've included my go-to chicken seasoning in the recipe below, so you can make your own homemade seasoning too. But feel free to use your favorite store-bought chicken seasoning you have on hand. 
Start with the chicken seasoning. Mix all the ingredients in a small bowl and set aside. To butterfly the chicken, use poultry shears to cut along each side of the chicken backbone and remove it. Cooking tip: Don't throw away the backbone and save it for making stock. Flip the chicken breast side-up and press firmly on the breastbone to flatten the chicken. Once the chicken is flat, rub the salt under the skin of the breast and thighs. Then rub all over the chicken with the prepared chicken seasoning. Chill the chicken for at least 2 hours. When ready to cook, line a baking sheet with aluminum foil and place the aromatics on top. Position a wire rack over the backing sheet and place the chicken flat on top of the rack breast-side up. Roast the chicken until the skin is crispy and golden brown. While the chicken is resting, prepare the sauce. Carve and serve with the sauce. Enjoy!  
To make the Chicken Spatchcock, you will need the following ingredients: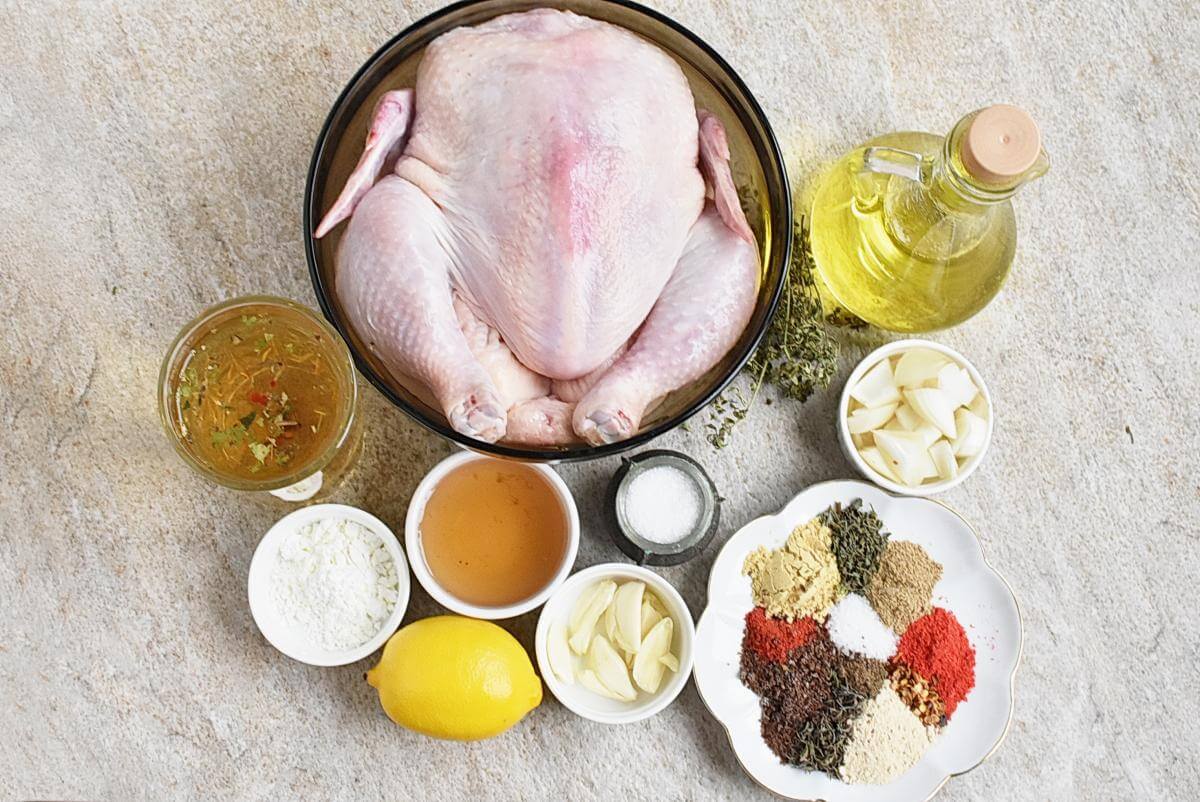 Steps to make Chicken Spatchcock
Prepare the chicken seasoning

1

In a small bowl, mix together 2 teaspoons garlic powder, 1 teaspoon chili powder, 1 teaspoon cumin, 1 teaspoon dried thyme, 1 teaspoon ground mustard, 1 teaspoon dried basil, ½ teaspoon ground pepper, ½ teaspoon red pepper flakes, ½ teaspoon sea salt, ½ teaspoon paprika. and 1 teaspoon brown sugar and set aside.

How to spatchcock the chicken

2

Break the breastbone

1

Loosen the chicken skin

2

Salt the chicken meat

1

Rub with the seasoning

2h

Preheat the oven

5

Remove the chicken from the fridge

Place the aromatics on the baking sheet

2

Place chicken on the baking sheet

2

Rub the chicken with oil

2

Roast

40

Remove from the oven

15

Prepare the sauce

3

Add cornstarch

2

Serve