2

Jalapeño pepper

finely diced

6 cups

Chicken stock

low-sodium

1 (14oz) tin

Tomatoes

fire-roasted, diced

1 (14oz) tin

Black beans

rinsed and drained

3

Chicken Breast

bone and skin removed

to taste

Black pepper

freshly ground

1 cup

Cilantro

roughly chopped fresh leaves

1 (8 inch)

Tortilla wraps

grilled, cut into thin strips

1 cup

Monterey Jack cheese

shredded
Chicken Tortilla Soup
This Chicken Tortilla Soup is a Mexican-inspired dish which I could not live without! It is rich and tasty. It is full of Mexican flavors. If I have a hard week at work, I love to rustle up a pot of this on a Friday night and sit down to a hearty, warming bowl of Tex-Mex comfort food. I always make a bit extra so there is enough for second helpings or even for leftovers tomorrow!
In this spicy, brothy chicken soup, onion, garlic, black beans, and other delicious ingredients are simmered in a tomato and chicken broth base. Then I cook the chicken breasts in the soup mix. You could use leftover roast chicken if you have it. I love to top this soup with crispy grilled tortilla strips, a lime wedge, sliced avocado and cheese.
To make this Chicken Tortilla Soup, you will need the following ingredients: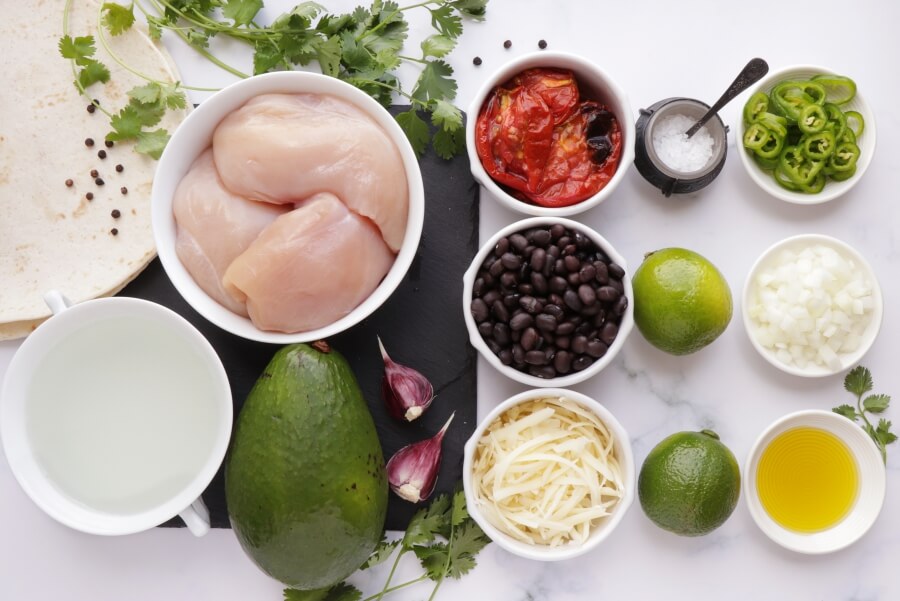 So, how do you make Chicken Tortilla Soup?
Steps to make Chicken Tortilla Soup
Sauté onions

2

Stir in garlic and jalapenos

1

Bring to a boil

2

Add chicken and simmer

25

Shred the chicken

5

Add lime and cilantro

1

Serve