For the dough

1/3 cup

Whole milk

room temperature

4 3/4 cups

All-purpose flour

1 cup

Water

room temperature

2 tbsp

Apple juice

or cider

1/2 cup

Unsalted butter

room temperature

1 egg whisked with 1 tsp

Milk

For the filling

4 oz

Butter

room temperature

1/3 cup

All-purpose flour

3

Apples

cut horizontally in half at the equator
Christmas Bread Wreath
I love to get creative with my holiday bakes and this Christmas Bread Wreath recipe is a novel take on the traditional Christmas wreath. An essential part of my Christmas decorating involves hanging a wreath on my front door. Christmas wreaths are usually made from evergreens as they tend to last through the harshest winter conditions.
These bread wreaths are made from intertwined pieces of dough with layers of cinnamon and sugar. I bake half an apple in each wreath. I find that organic red delicious ones are the perfect size for each Christmas bread wreath, but you can use any apple which is about 2 ½ inches across.
To make Christmas Bread Wreath, you will need the following ingredients: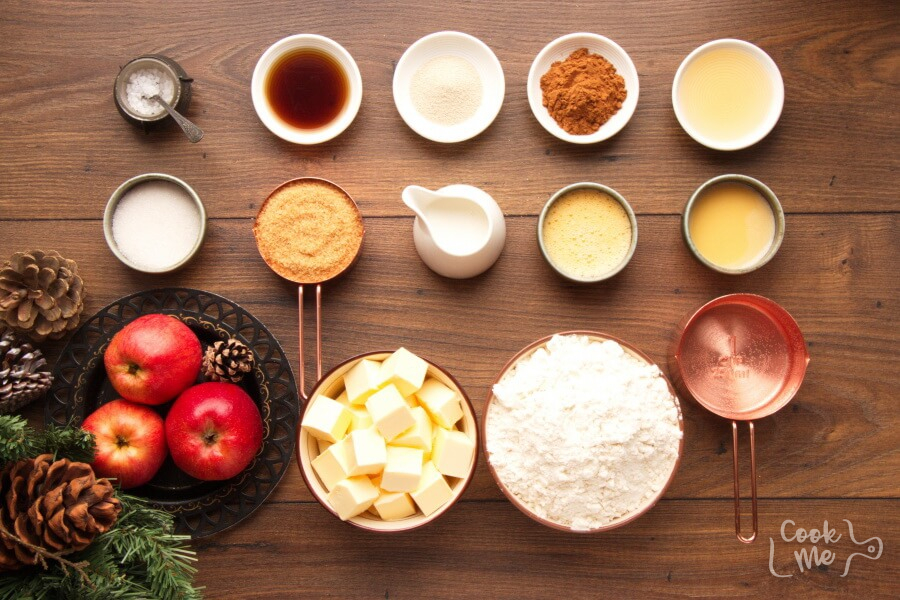 So, how to make Christmas Bread Wreath?
Steps to make Christmas Bread Wreath
Make the dough

8

Add butter

5

Leave to rise

45

Knead the dough

5

Make the cinnamon sugar filling

2

Roll out dough and spread with cinnamon filling

40

Cut dough strips

5

Form the bread wreath

10

Twist two pieces of dough together and pinch the ends. Bring the ends together to form a circle. Pinch the ends together and place them on a parchment lined baking sheet. Repeat this process until all the dough is used. You will need more than one baking sheet as these wreaths will expand as they bake.

Cover and leave to rise

1h

Heat the oven

5

Preheat the oven to 375 °F.

Assemble the wreaths

6

Bake

40

Serve