8oz

Dried fettuccine pasta

1 cup grated

Parmesan cheese

plus extra to serve

to garnish

Parsley

roughly chopped leaves
Classic Chicken Alfredo Pasta
You are in for a treat with this Classic Chicken Alfredo Pasta let me tell you! If you haven't tried it before let me paint you a picture…buttery, creamy, cheesy sauce coating juicy pieces of chicken breast all entwined in a tangle of fettuccine ribbons. Absolute decadence!
Chicken can sometimes be a bit bland but the way I cook it here means it's beautifully soft on the inside and all golden crispiness on the outside. Just so you know, the real deal Alfredo is actually made without cream, but I add a good serving to my version for that extra creamy luxuriousness.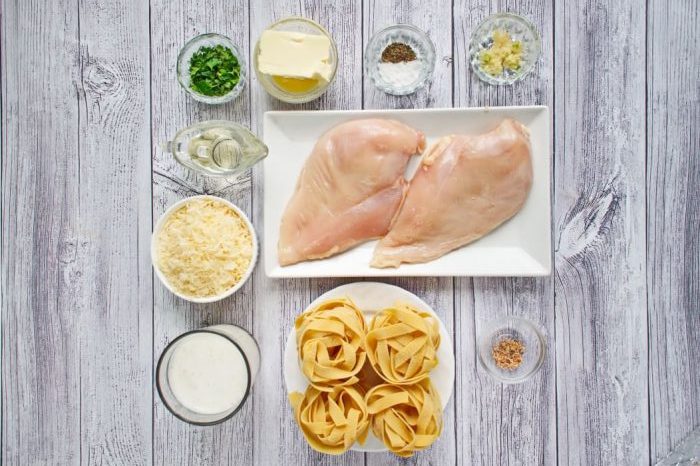 So, how to cook Classic Chicken Alfredo Pasta?
Steps to make Classic Chicken Alfredo Pasta
Boil the water for the pasta

10

Put a large saucepan of salted water over a high heat and bring to a boil.

Cook the chicken

8

Using paper towels, pat the chicken breasts dry. Use 3/4 of the salt and a pinch of the pepper to season each side. Take a skillet and heat the oil over a medium-high flame, before adding the chicken. Fry the chicken for 5-7 minutes, until the underside is a golden-brown color and it turns easily when you try to flip it. Cook on the other side for a further 5-7 minutes, then add one tablespoon of the butter to the pan. Turn the chicken in the melted butter and leave for another 5-7 minutes, until the internal temperature reaches 165°F.

Cook the pasta

8

Slice the chicken

3

Prepare the Alfredo sauce

4

In the same pan you used for the chicken, melt the remaining butter and gently fry the garlic for about a minute. Add the cream, Parmesan, nutmeg and the rest of the salt and pepper. Simmer for 3 to 4 minutes. If you think the sauce is on the thick side, you can thin it out with a bit of the cooking water from the pasta.

Serve the pasta

1

Serving Classic Chicken Alfredo Pasta