8 slices

Bacon

4 if you're using Canadian bacon

For your hollandaise:

splash of

Tobasco

or cayenne
Easy Eggs Benedict
For a bit of class at the breakfast table, nothing beats Eggs Benedict. This gourmet breakfast option is bound to impress, so tuck it up your sleeve to make for that special someone in your life. A treat for the missus, a Mother's Day surprise or a luxury breakfast in bed – Eggs Benedict is the answer!
Oozing egg yolk over warm, crispy bacon, with a creamy hollandaise sauce and buttery muffin, enough to get anyone's mouth watering! There are a few bits to juggle but don't worry – I'll take you through it nice and easy!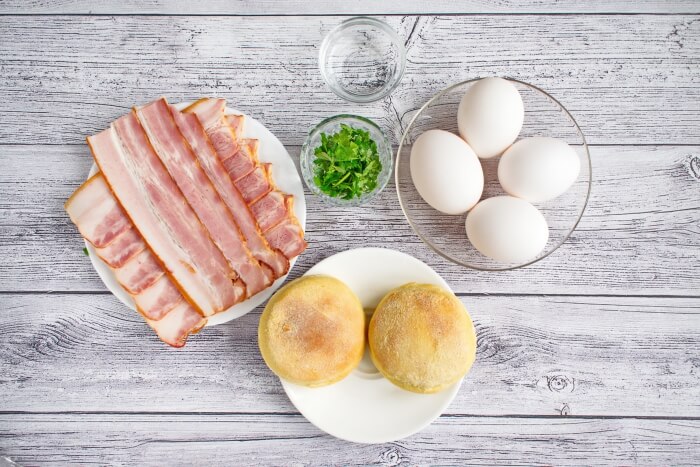 So, how to cook Eggs Benedict for breakfast?
Steps to make Easy Eggs Benedict
Fry the bacon

5

Prepare the water for the eggs

5

Make the Hollandaise sauce

3

Making Hollandaise in a blender is super easy. First melt the butter. Then put the egg yolks, lemon juice, cayenne or tabasco and salt into the blender and blend on medium to high speed for half a minute, until the mixture lightens. Turn the blender down to its lowest setting and ever-so-slowly pour in the melted butter. The sauce should look thick and creamy. Check the seasoning - you can add more salt, lemon or tabasco if you like.

Poach the eggs

4

Crack an egg into a small bowl and hold the bowl just above the surface of the simmering water so the egg can gently slip in. Once you see the whites start to cook, you can do the same with the second egg, and repeat until all four eggs are poaching away. Put a lid on the pan, turn off the heat and leave for 4 minutes. The aim is for the yolk to still be runny so don't leave them for too long. Remove with a slotted spoon, in the order that you started cooking them.

Toast the muffins

2

Serving Eggs Benedict

2