For cheese filling:

565 g (20 ounces)

Ricotta cheese

full-fat, preferably double cream.

63 g (1/2 cup)

All-purpose flour

3/4 tsp (2.25 g)

Kosher Salt

For blueberry filling:

115 g (3/4 cup)

Blueberries

fresh or frozen

112 g (1/3 cup)

Blueberry preserves

For dough:

4 tbsp

Granulated sugar

divided

12 ounces

Water

warm, 95 to 100 °F, divided

500 to 575 g

All-purpose flour

¼ cup (57 g)

Butter

room temperature , super soft

1 ½ tsp

Apple cider vinegar

For egg wash:

For garnish:

Confectioners' sugar

to taste

For serving:
Ekmak – Syrian Sweet Bread
This Ekmak – Syrian Sweet Bread is a delicious boat-shaped sweet yeast bread. It's somewhat similar to Russian Cream Cheese Vatrushka Buns, but this version is less sweet. Soft and fluffy dough surrounds creamy ricotta cheese filling swirled with blueberry preserves. Feel free to sub any fresh or frozen berries for the blueberries the recipe calls for. Serve these boats of deliciousness drizzled with honey and enjoy them warm.
The recipe is time-consuming, but the steps are fairly straightforward and worth the effort. The dough should be soft and tacky to the touch but not sticky. Add more flour, one tablespoon at a time, until it reaches the desired consistency. Once the dough has rested, stretch it into ovals, add the ricotta filling, and shape into boats. Top the cheese filling with preserves and brush the dough with an egg wash. Once the boats come out of the oven, sprinkle them with confectioners' sugar. Enjoy warm with a drizzle of honey! 
To make the Ekmak – Syrian Sweet Bread, you will need the following ingredients: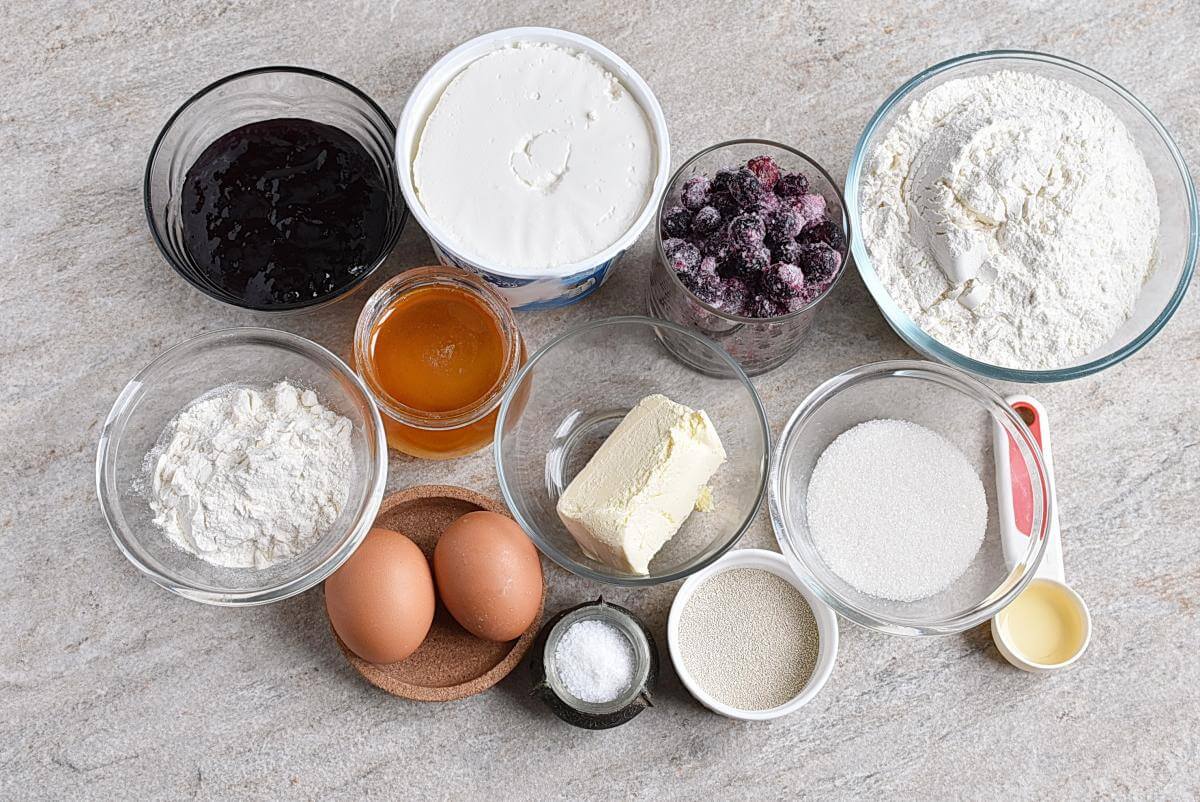 Steps to make Ekmak – Syrian Sweet Bread
Make cream cheese filling

3

Mix blueberry mixture ingredients

2

Dissolve yeast

5

Combine flour, sugar, and butter

1

Add yeast mixture and remaining water

2

Knead

5

Knead on medium-low speed until the dough comes together. Switch to medium and knead until the dough pulls away from the sides of the bowl and is tacky but not sticky to the touch. Add the remaining flour, by tablespoons, if needed until the dough reaches the right consistency. Add 1 tablespoon salt and knead for another minute on medium speed.

Rise

1h

Deflate dough

10

Divide dough

15

Roll into balls

10

Roll out

10

Preheat oven and prepare baking sheets

5

Add filling

2

Shape

3

Let rest

10

Egg wash

3

Bake

15

Cool

10

Serve