2 (12 oz)

Cucumbers

peeled, seeded and chopped

2 Hass

Avocado

coarsely chopped

2 tsp

Curry paste

Thai green

2 tsp

Lime zest

finely grated

1

Serrano chili

seeded and chopped

1 (13 oz) can

Coconut milk

unsweetened

½ cup

Coconut flakes

unsweetened , for garnish

10 sprigs

Cilantro

for garnish
Keto Spicy Avocado-Cucumber Soup
This Spicy Avocado-Cucumber Soup is a great summer soup to make when you are catering for a crowd. Cold soups are healthy, flavorful and a great thing about this one is that there's no cooking involved so you don't have to stand over a hot stove on a hot day. 
It couldn't be easier to make either. Simply puree the ingredients in stages starting with the cucumbers. Once all the ingredients have been blended, place the soup in the refrigerator. As the soup chills, toast the coconut for the garnish. That's it! Super simple.
To make my version of Spicy Avocado-Cucumber Soup, you will need the following ingredients: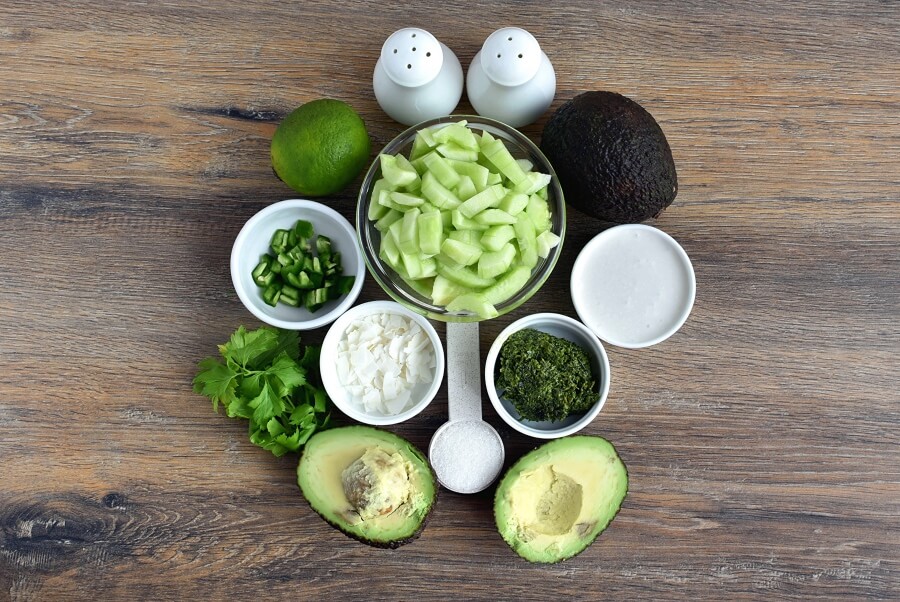 So, how do you make Spicy Avocado-Cucumber Soup?
Steps to make Keto Spicy Avocado-Cucumber Soup
Blend cucumbers

2

Blend in the avocado, curry paste, sugar, lime zest and chile

3

Add water, coconut milk and lime juice

2

Chill the soup

15

Toast the coconut

3

Serve