1 lb

Chicken Breast

skinned, boned and chopped into bite-size pieces

1 cup

Bell pepper

red, diced

3

Scallions

medium, white parts only, finely chopped

1/4 cup

Salted peanuts

roasted
Kung Wow Chicken
This hot and spicy Kung Wow Chicken is my version of this super popular Chinese dish. I'm sure you know Kung Pao chicken, that spicy Chinese stir fry made with chicken, peanuts, vegetables, and chili peppers.
The original dish is from Sichuan, the province in China most known for its blow-your-head-off spice levels! My wow chicken version is a little milder but still packed with heat, spice and yummy flavors. Don't be put off by the list of ingredients. Most of them are probably already in your store cupboard. And together they make such a deep, rich and delicious sauce that it's absolutely worth the effort to cook this up!
To make Kung Wow Chicken, you will need the following ingredients: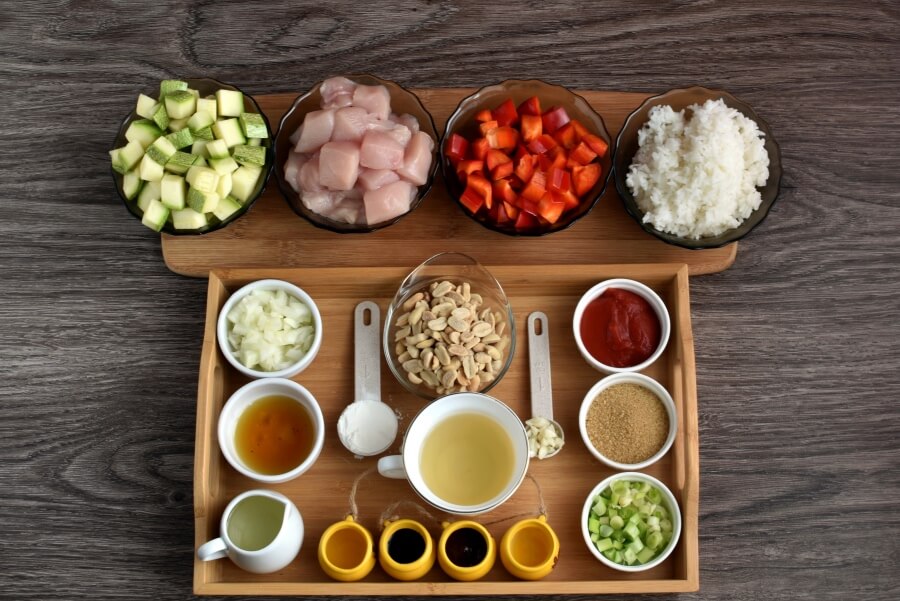 So, how to make Kung Wow Chicken?
Steps to make Kung Wow Chicken
Make the marinade

2

Marinate the chicken

1h

Make the sauce

2

Prepare the cornstarch

1

Cook the chicken

3

Cook the pepper and zucchini

2

Pour in the chicken broth

1

Add the soy sauce mixture

4

Add the cornstarch

2

Add the peanuts and scallions

1

Serve

2