For cake

Lemon zest

of two small or one large lemon, grated and finely chopped

1 tsp

Vanilla extract

good quality

⅓ cup

Vegetable shortening

at room temperature

1 ¼ cups

All-purpose flour

sifted

1 ½ cups

Cake flour

sifted

For the frosting

1 tsp

Lemon zest

minced (optional)
Lemon Velvet Cake
This Lemon Velvet Cake is my twist on the well-known, soft, moist and fluffy red velvet cake that everyone loves! What better flavor, than to add lemon to this already adored recipe.
My hint is to use 3 eggs instead of 2 eggs, and a 1 ½ cups buttermilk, to get that extra smooth and fluffy texture that velvet is famous for. I use lemon extract and lemon zest with my frosting recipe for that extra topping of tangy! This will be the best addition to the menu at your next tea party!
To make Lemon Velvet Cake, you will need the following ingredients: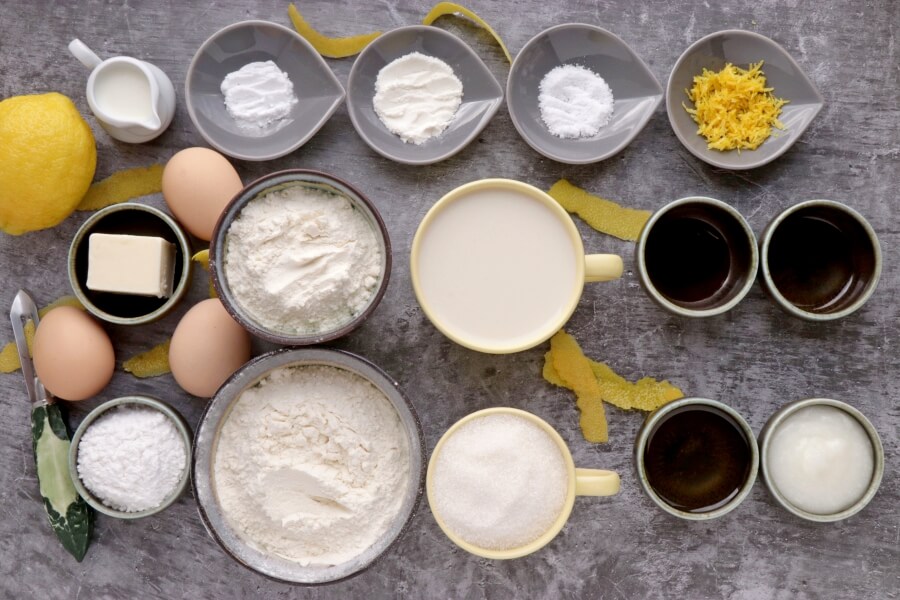 So, how to make Lemon Velvet Cake?
Steps to make Lemon Velvet Cake
Heat the oven

5

Preheat the oven to 325 °F.

Prepare the pan

2

Combine the dry ingredients

2

Combine wet ingredients

2

Add eggs

3

Add lemon zest

1

Add dry ingredients and buttermilk

5

Fold in the dry ingredients, slowly, alternating with the buttermilk.
NOTE: I always add the dry ingredients in 3 divisions and the liquid ingredients in 2 divisions. It is very important to begin and end the additions with the dry ingredients. Do not over mix the batter. As soon as the batter has no lumps in, pour it into the two prepared 9-inch cake pans.

Bake

35

Allow to cool

40

Prepare frosting

1

Add lemon extract and milk

2

Prepare candied lemon zest

1

Boil sugar water

5

Add lemon zests

20

Roll in sugar

1

Frost the cake

5

Serving Lemon Velvet Cake