6 pieces of

Chicken

skin-on, bone-in, cleaned and patted dry

6 cups

Chicken broth

or water

2

Carrots

peeled and finely chopped

2 stalks

Celery

finely chopped

4 tbsp

Olive oil

plus a little more if needed for browning meat

For the Chicken Rub:
Mom's Roasted Chicken and Rice
Do you come from a family culture of Sunday lunches? Well this is my Mom's Roasted Chicken and Rice recipe and I cannot believe it's taken me this long to share it with you. A classic roast of chicken on the bone pieces in a casserole dish with rice, carrots, celery, onions and garlic. No slaving away over different pots, saute chicken and veg then put it all together in one dish for easy prep and easier clean up! 
To make Mom's Roasted Chicken and Rice, you will need the following ingredients: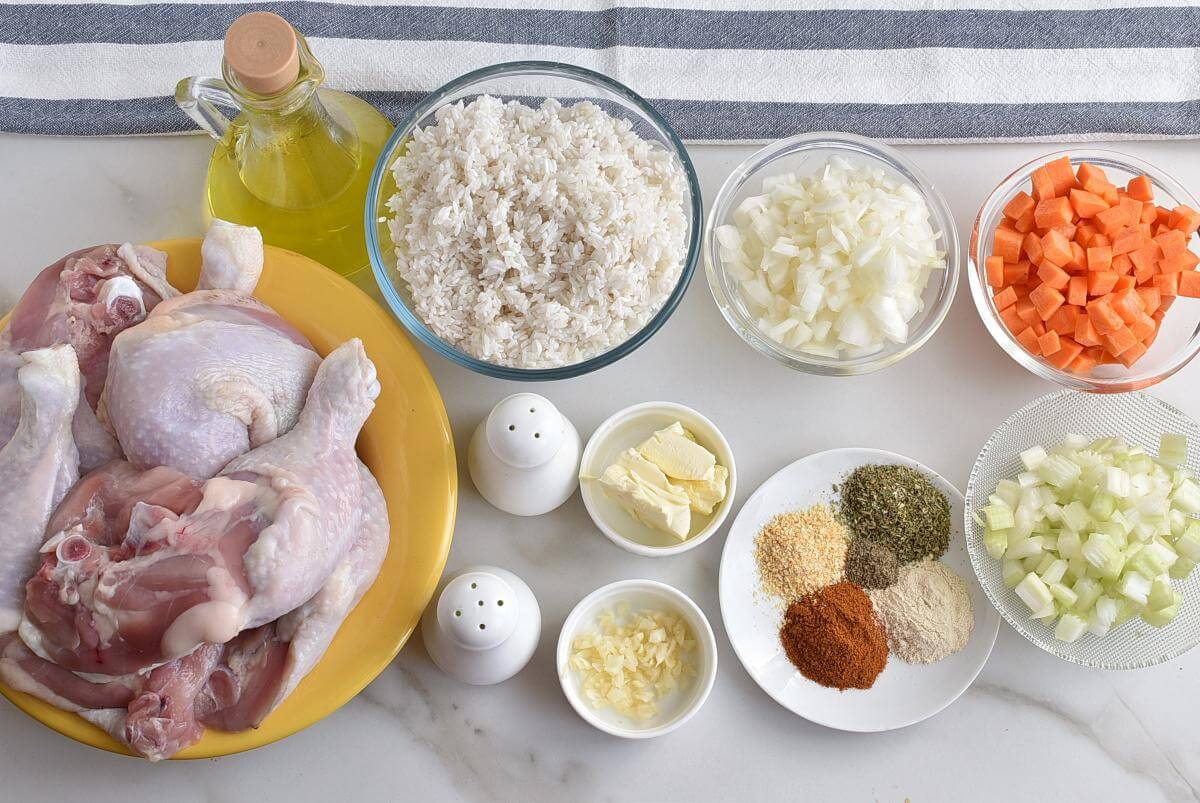 Steps to make Mom's Roasted Chicken and Rice
Preheat oven

5

Preheat the oven to 350 °F.

Rub chicken in spices

3

Brown chicken

7

Sauté vegetables

10

In a medium pot over medium heat, melt 2 tablespoons of butter and 2 tablespoons of olive oil then add 2 finely chopped carrots, 2 finely chopped celery stalks, 2 finely chopped onions and 2 cloves of minced garlic. Sauté for about 10 minutes until soft and browned. Season with salt and pepper to taste.

Add rice

3

Add liquid

2

Bake

55

Transfer to a baking dish and place the browned chicken pieces on top. Cover with aluminum foil and bake in the preheated oven for about 35-40 minutes then remove the aluminum foil and bake for another 10-15 minutes until all the liquid is cooked away, the rice is soft and the chicken is cooked and golden.

Serve