8 ounces

Italian sausage

spicy, casing removed

½ cup

Pepperoni

mini, divided

1 (15-ounce) can

Tomato sauce

2 tbsp

Parsley

fresh parsley leaves, chopped
One Pot Pizza Pasta Bake
We all love pizza and pasta, so why has it taken us so long to make it into one? Well here is the One Pot Pizza Pasta Bake that everyone has been waiting for. A great recipe that's easy and simple to prepare after a hard day's work.
Put everything in one pot, Italian sausage, mini pepperoni, tomato sauce and rotini pasta seasoned with dried oregano, dried basil and garlic powder until cooked then top with tons of mozzarella and some pepperoni. Bake and you're good to go!
To make One Pot Pizza Pasta Bake, you will need the following ingredients: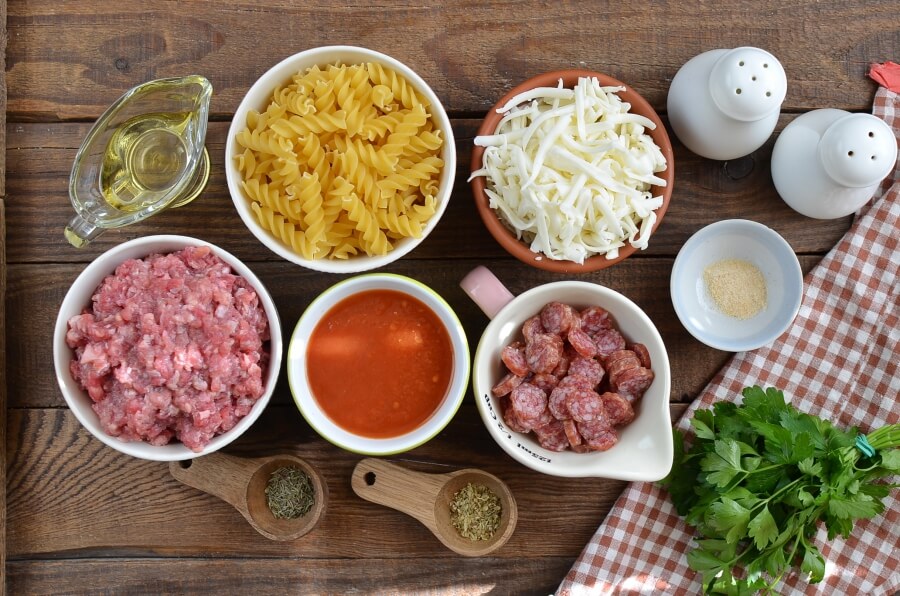 So, how to make One Pot Pizza Pasta Bake?
Steps to make One Pot Pizza Pasta Bake
Preheat broiler

10

Cook sausage

5

Add pepperoni

1

Add sauce and seasoning

1

Add pasta and water

14

Add toppings

2

Bake

2

Serve

1