3 ½ lb

Quinces

washed, trimmed, cored and chopped into chunks

3 ½ cups

Sugar

granulated
Quince Jelly
I've always been intrigued by Quince Jelly thanks to the wonderful poem 'The Owl and the Pussycat' by Edward Lear. In it, the protagonists famously "dine on mince and slices of quince, which they ate with a runcible spoon". The magic of the poem has stuck with me since childhood and I was curious to try this sour fruit which resembles a pear.
Of course, because quince is so sour, it is imperative to add sugar to any quince recipe which is exactly what this recipe does. Start by boiling the fruit until you have a type of quince sauce (like applesauce). Strain the sauce through cheesecloth to get quince juice which is then boiled with sugar to create a delicious quince jelly!
To make Quince Jelly, you will need the following ingredients: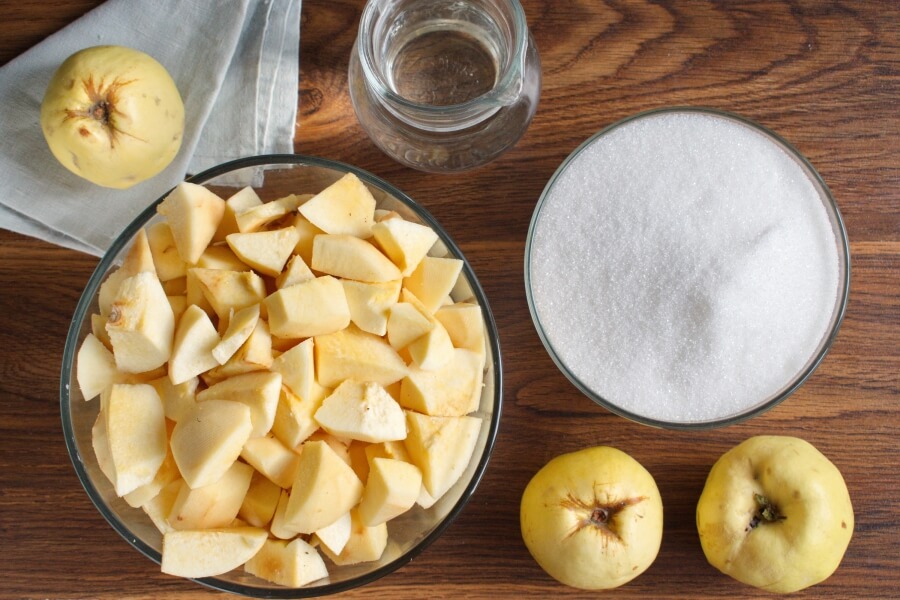 So, how to make Quince Jelly?
Steps to make Quince Jelly
| | |
| --- | --- |
| 1h | Bring quince to a boil and simmer |
| 2h | Mash and strain the quince |
| 5 | Sterilize the jars |
| 2 | Make the jelly |
| 5 | Bring to a boil |
| 5 | Place the jam in jars |
| | Can |
| | Serve |