1 tbsp

Thyme

leaves, roughly chopped

1 ½ cups

Roast chicken

leftover, shredded

1 tbsp

Lemon juice

squeeze
Roast Chicken Soup
This Roast Chicken Soup is a simple classic. It is delicious, comforting and it is a great cure for winter colds and flu. The peas in this recipe provide a sweet little pop of flavor which I find is often missing from simple soups. To garnish this soup, I whip up a creamy little yoghurt, lemon and garlic dressing which I swirl on top of each bowl just before serving. Yum!
I make this soup by frying up some onions and carrots in olive oil. Then I add some chicken stock and bring to the boil. Towards the end of the cooking time I add some chicken and my secret to amazing texture in this soup is that instead of blending the whole lot, I puree half of the mixture. Finally I add the peas to the soup and heat through before swirling some of the garlic and lemon yoghurt on top.
To make the Roast Chicken Soup, you will need the following ingredients: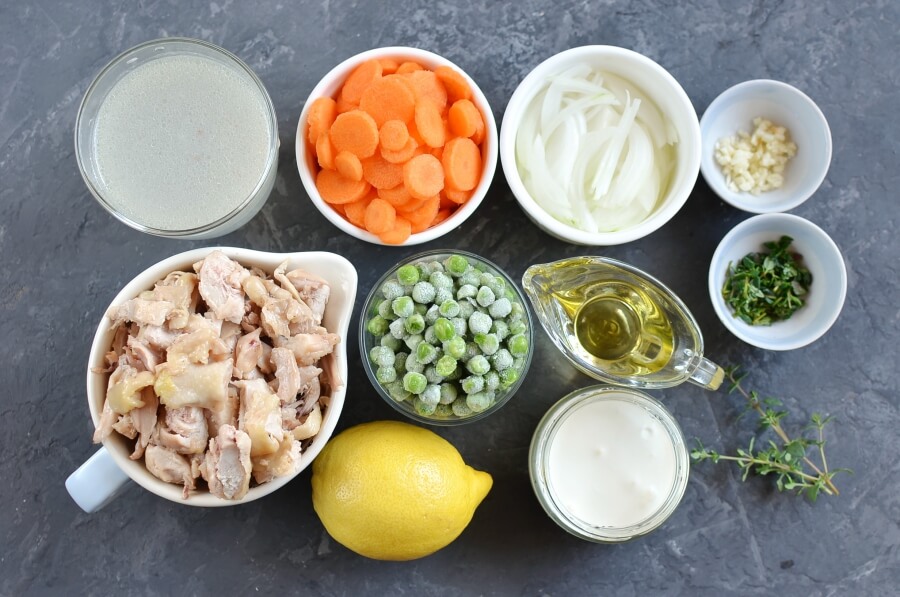 So, how do you make Roast Chicken Soup?
Steps to make Roast Chicken Soup
Cook the onions and carrots

15

Simmer

10

Add the chicken

1

Blend half the soup

5

Return the soup to the pot and add peas

3

Cook through

5

Make the topping

1

Serve

3