For chimichurri sauce:

½ cup

Parsley

fresh, chopped

¼ cup

Cilantro

fresh, chopped

4 cloves

Garlic

roughly chopped

¼ tsp

Red pepper flakes

or to taste

For cauliflower steaks:
Roasted Cauliflower Steaks
Looking for an easy vegan main or a side dish? Try these Roasted Cauliflower Steaks with chimichurri sauce. Thick slabs of cauliflower steaks get roasted in the oven until golden brown and tender and then smothered in a bright herby, garlicky, and spicy sauce. This is a dish that will please vegetarians and meat-eaters alike and warm you up if the weather is miserable outside.
Roasting the cauliflower steaks is so easy. First, remove any outer layer leaves and trim the bottom of the stem from the cauliflower. Then use a long sharp knife to slice the cauliflower head in half. Cut each half in half again, making 1 to 1 ½ inches thick cauliflower steak with each half. There will be some leftover cauliflower florets after making the steaks. You can use these leftovers to make this delicious leak and turmeric soup, which is also vegan-friendly. Place the cauliflower steaks on a baking sheet, brush with olive oil and sprinkle with salt. Roast in the preheated oven for about 25 minutes until nice and golden brown, also charred on spots. Halfway through roasting, flip the steaks and brush them with more olive oil. For the chimichurri sauce, I like using a mix of parsley, cilantro, oregano, garlic, and a good pinch of red pepper flakes for a really good flavorful kick. Feel free to adjust the amounts of pepper to your liking. Also, start making the sauce at least half an hour in advance to let the flavors meld and mingle.
To make the Roasted Cauliflower Steaks with chimichurri sauce, you will need the following ingredients: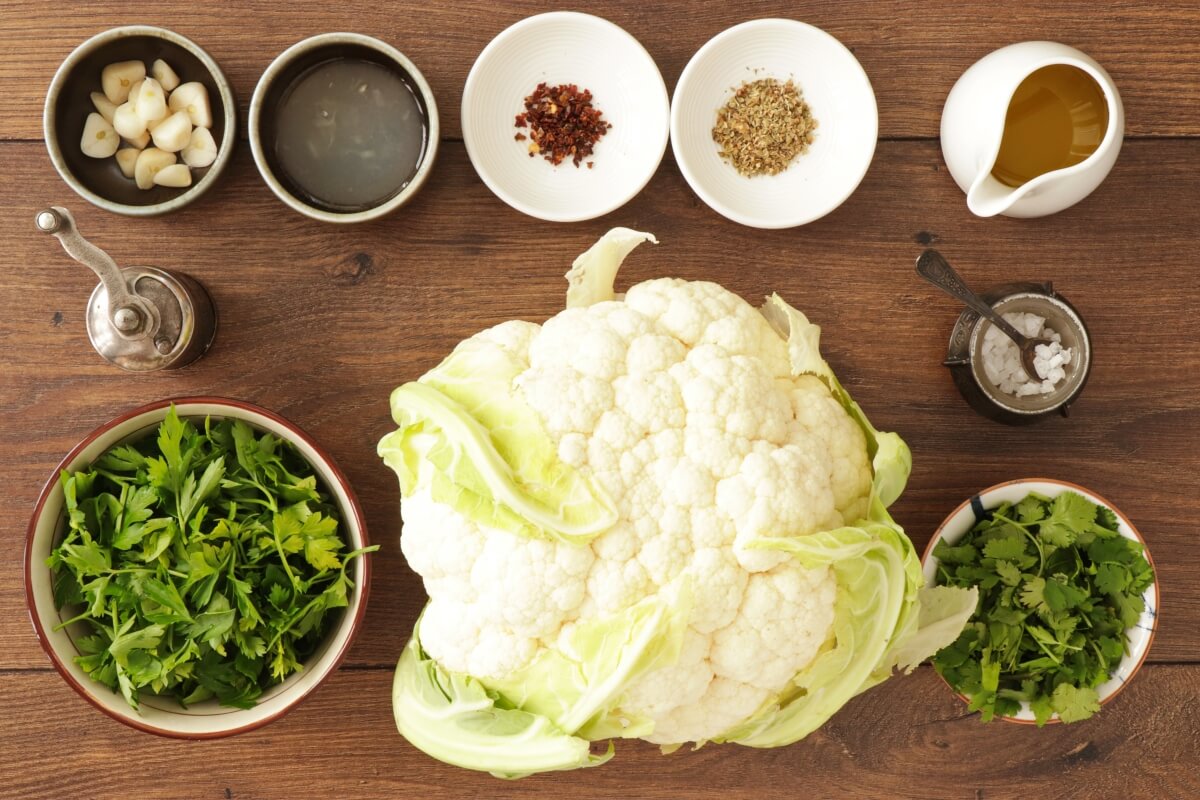 Steps to make Roasted Cauliflower Steaks
Prepare chimichurri sauce

2

Allow to stand

30

Heat oven

Meanwhile, preheat the oven to 425 °F.

Prepare cauliflower

2

Remove the outer layer leaves and trim the bottom of the stem from the cauliflower. Using a long sharp knife, slice the cauliflower head in half. Then cut each half in half again, making 1 to 1 ½ inches thick cauliflower steak with each half. Reserve the leftover cauliflower florets for another recipe.

Brush with oil

1

Roast

35

Serve