1/8 tsp

Black pepper

ground

1/3 cup

Olive oil

extra virgin
Vegan Garlic Scape Pesto
This Vegan Garlic Scape Pesto recipe is one of my favorite pesto recipes. Homemade pesto is one of those things that I always have a jar of on standby in my fridge. I like to get experimental with my pestos and I tend to deviate from the traditional basil pesto when I make my own. I've used kale, carrot tops and sundried tomatoes in the past, but there is something about the subtle flavor of garlic scapes that I love.
Garlic scapes are the thin, curly, vibrantly green stalks that grow from the bulbs of garlic plants. These tend to be harvested in Spring so the garlic plant can use its energy to produce flavorful bulbs. I get scapes at my local farmer's market and I blend them with walnuts, yeast, lemon juice, salt, pepper and olive oil to make this delicious pesto.
To make my version of Vegan Garlic Scape Pesto, you will need the following ingredients: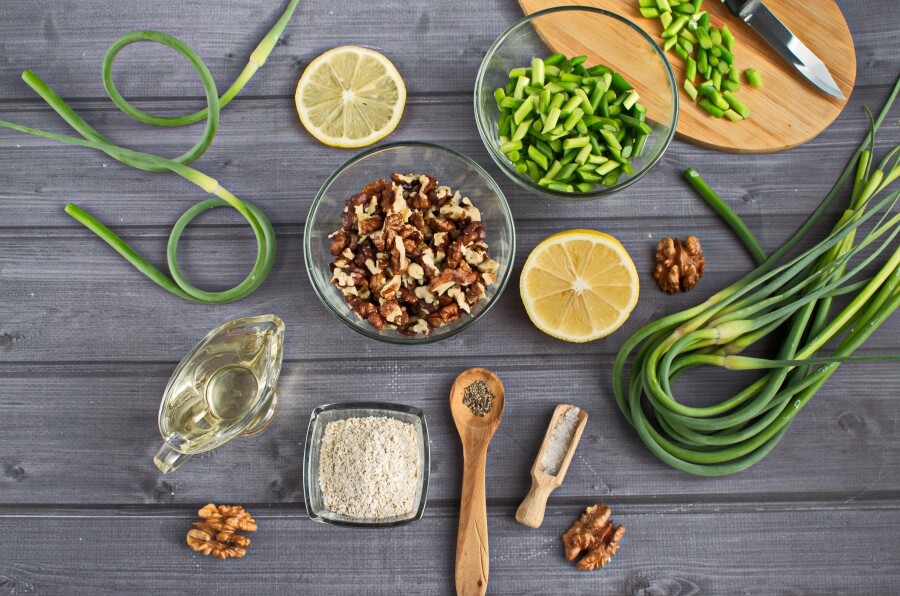 So, how do you make Vegan Garlic Scape Pesto?
Steps to make Vegan Garlic Scape Pesto
Prepare the garlic scapes

2

Blend all the ingredients except the olive oil

2

Add olive oil

1

Blend

1

Store

Serve