2

Eggplants

trimmed and cut crosswise into ½-inch-thick rounds

½ tsp

Black pepper

divided

2 tbsp

Olive oil

extra-virgin

1 (28 oz)

Tomatoes

can no-salt-added crushed

1 ½ cups

Mozzarella

shredded part-skim

½ cup

Parmesan cheese

grated

5

Basil

thinly sliced fresh, for garnish
Gluten-Free Baked Eggplant Parmesan
I made this Gluten-Free Baked Eggplant Parmesan for a friend recently and would you believe, I think it tastes better than traditional eggplant parmigiana! A lot of the gluten free options you can buy at the store are full of unusual ingredients, so it's really great to be able to cater for my gluten free friends in a wholesome way.
This take on eggplant parmesan is so easy to make. Simply roast eggplant slices in the oven. While the eggplant is cooking, make a tomato based sauce. When you assemble the dish, layer the eggplant slices, tomato sauce and cheese. Bake until it is bubbling. Top tip: the cheese will be molten hot when it comes out of the oven, so you should let this dish cool for at least 10 minutes before serving!
To make my Gluten-Free Baked Eggplant Parmesan, you will need the following ingredients: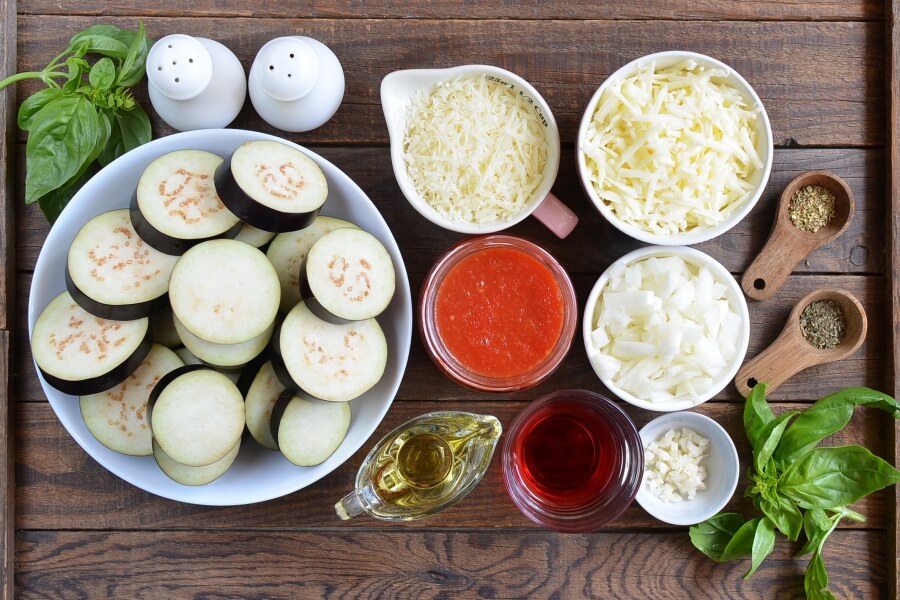 So, how do you make Gluten-Free Baked Eggplant Parmesan?
Steps to make Gluten-Free Baked Eggplant Parmesan
15

Heat the oven and prepare 2 baking sheets

20

Roast the eggplant

6

Cook onion and garlic

5

Add tomatoes to make a sauce

10

Assemble the eggplant parmesan

25

Bake

10

Allow to stand

Allow the eggplant parmesan to rest and cool for about 10 minutes.

Serve