1

Pumpkin

pie pumpkin, small, sliced into ¼-inch thick fries

3 tbsp

Parmesan cheese

grated

¼ cup

Parsley

fresh, minced
Baked Parmesan Pumpkin Fries
These addictive seasoned Baked Parmesan Pumpkin Fries are crispy and full of flavor.
Follow this easy recipe, and you will get crispy pumpkin fries every time. So what's the secret? Four things. One, when slicing, keep the pumpkin pieces under a ¼-inch in width. The thinner the piece, the less time it takes for the middle to cook. Two, soak pumpkin slices in water for at least 30 minutes before cooking and be sure to dry them very well. Soaking the cut pumpkin slices in cold water will get rid of excess starch and help them crisp up in the oven. Three, cover the pumpkin fries with a thin coat of cornstarch or arrowroot powder. Just toss well and make sure all the pumpkin fries are evenly coated. Four, remember not to overcrowd the fries on the baking sheet for even baking and crispiness.
For baking these pumpkin fries, I like to keep my spice mix simple – just paprika and garlic powder. And then, once baked, sprinkle with grated Parmesan cheese, freshly chopped parsley, and flaky sea salt. Serve these perfectly crisp baked fries hot and enjoy!
To make the Baked Parmesan Pumpkin Fries, you will need the following ingredients: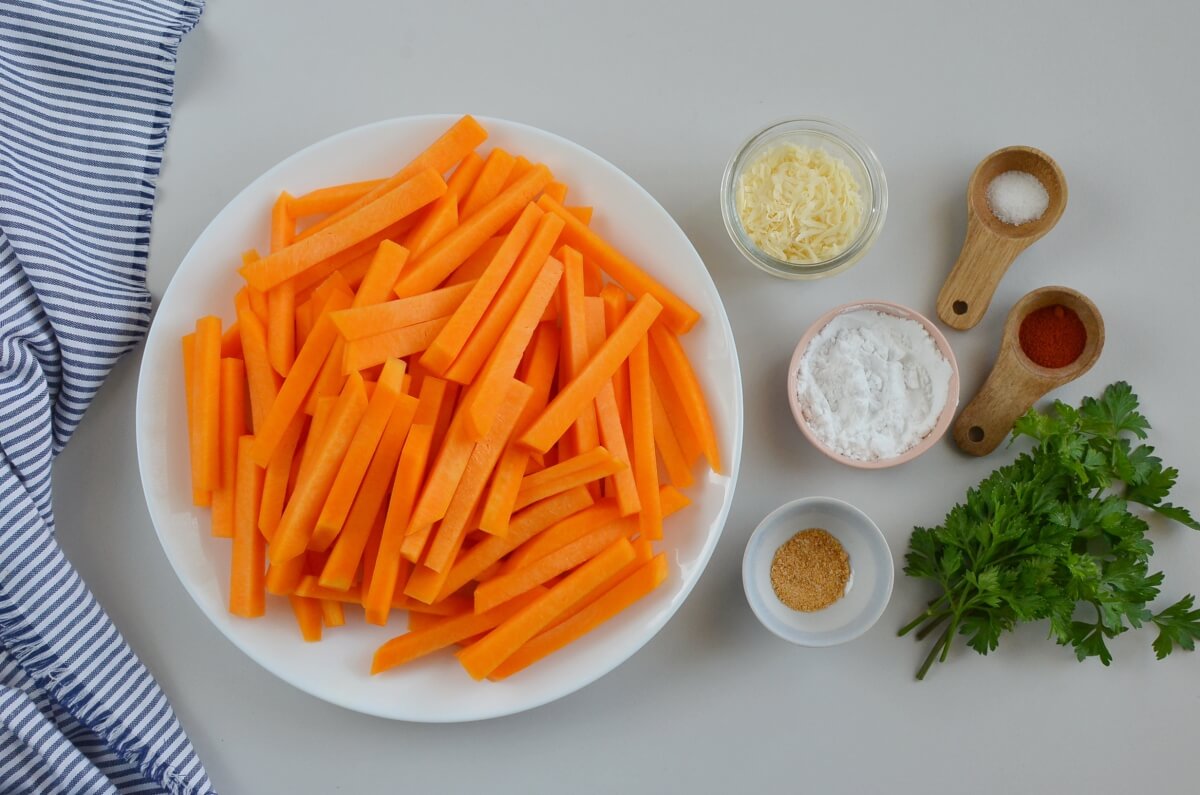 Steps to make Baked Parmesan Pumpkin Fries
Soak pumpkin fries

30

Preheat oven and prepare baking sheets

1

Drain and pat dry

5

Cover with cornstarch

2

Coat with olive oil

2

Coat with spice mix

2

Arrange on baking sheets

1

Bake

15

Combine cheese, parsley, and salt

1

Serve