1 lb

Pizza dough

at room temperature

4 tbsp

Parmesan cheese

grated

1 cup store bought

Pizza sauce

1 pound

Mozzarella

thinly sliced

½ cup

Cherry tomatoes

halved
Chicken Parmesan Pizza
This Chicken Parmesan Pizza was invented one Friday night in our house. Every week, we have "Pizza Friday" in our house and while I am a simple gal who likes pepperoni, mushrooms and onions on her pizza, sometimes when I ask the kids what they fancy, they come up with really unusual toppings. Like chicken parm!
I start off by making the chicken parmesan. I dip a flattened chicken breast in egg, then cheesy breadcrumbs. Then I fry it in some olive oil and slice it very thinly before adding it as a topping along with tomato, cheese, oregano, salt and pepper. This needs just 10 minutes in the oven, so it's quick too.
To make the Chicken Parmesan Pizza, you will need the following ingredients: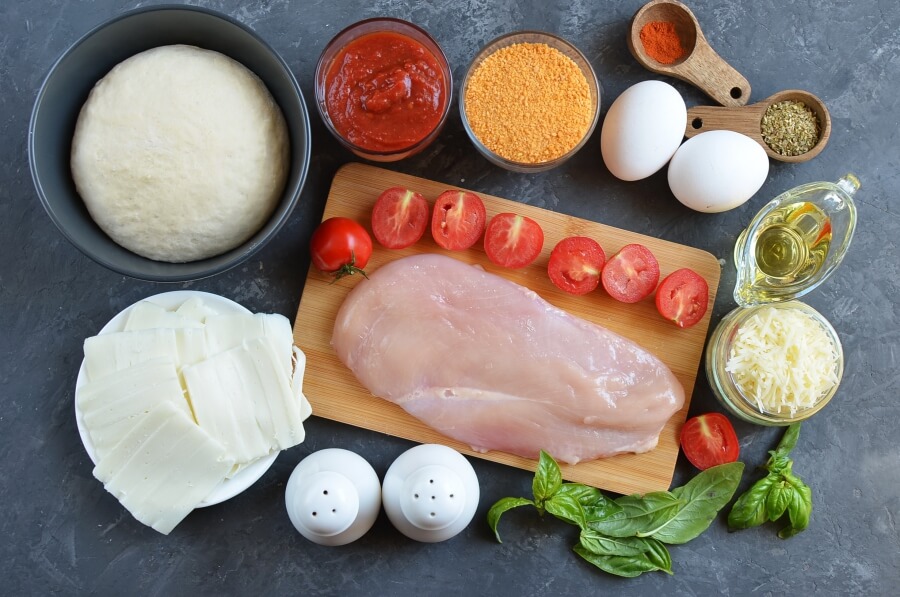 So, how to make Chicken Parmesan Pizza?
Steps to make Chicken Parmesan Pizza
Heat the oven

10

Preheat the oven to 475 °F.

Whisk eggs

1

Combine cheese and breadcrumbs

1

Make the chicken parm

3

Cook the chicken

10

Drain oil from chicken and slice

2

Roll out the pizza dough

3

Assemble the pizza

3

Bake

12

Serve

1