For dough:

1 cup

Whole milk

warm, 110 °F degrees

1 (¼ oz) package

Active dry yeast

1

Large eggs

room temperature, lightly beaten

2 tbsp

Unsalted butter

melted and slightly cooled

2 ½ cups

All-purpose flour

For filling:

½ cup (1 stick)

Unsalted butter

melted

For orange juice glaze:

¼ cup

Orange juice

fresh-squeezed

For garnishing:
Chocolate Orange Cinnamon Rolls
Celebrate the most delicious Christmas flavor combo with these Chocolate Orange Cinnamon Rolls! Chocolate, orange, and cinnamon, it's as good as it gets! These rolls are festive, soft, pillowy, deliciously sweet, and so delightful. For sure, a crowd-pleaser during the holidays! I like to serve them right out of the oven while the chocolate is still gooey and the rolls are warm.
What's great about these chocolate cinnamon rolls is that there's no need to let the dough rise a second time. Just place the rolls in a cold oven, shut the door, and turn the oven on to 350 °F. The dough will complete its final rise while the oven preheats. Plus, this will cut down the overall cooking time. Win-win! Serve these chocolatey melt-in-your-mouth rolls fresh out of the oven garnished with sweet orange glaze and fresh orange zest, and enjoy!
To make the Chocolate Orange Cinnamon Rolls, you will need the following ingredients: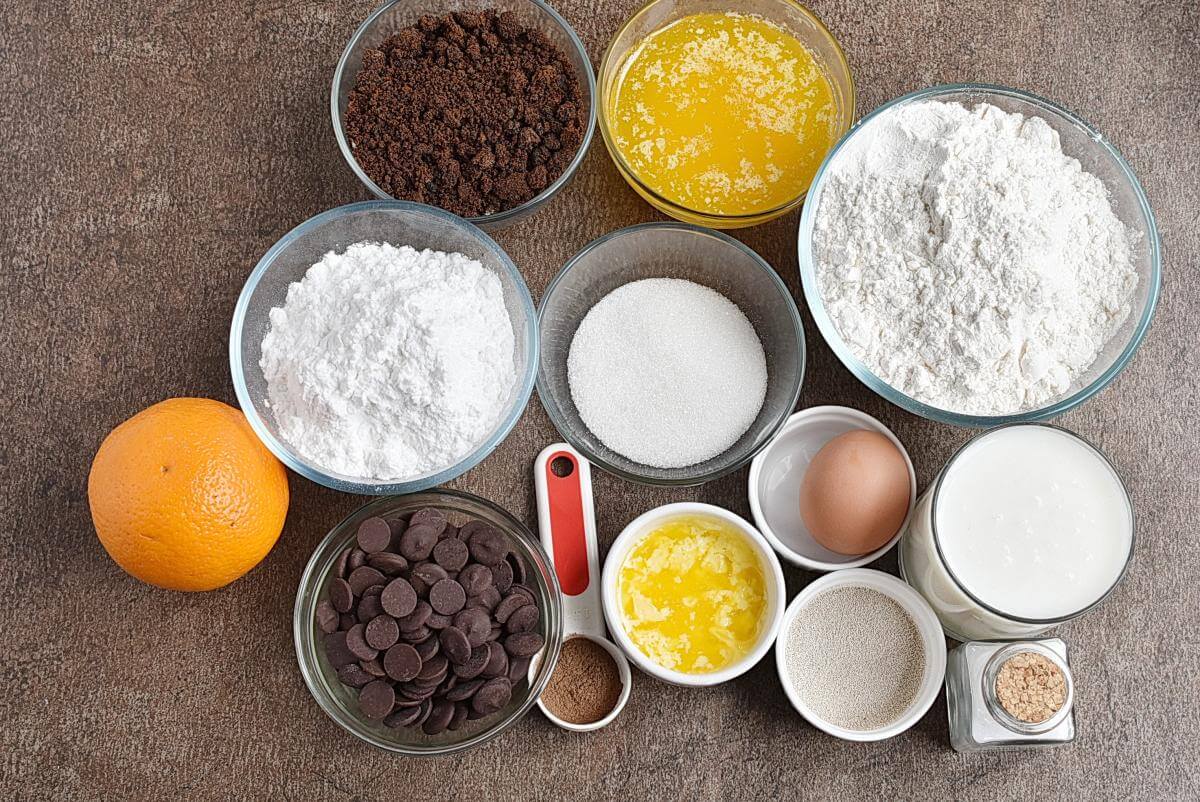 Steps to make Chocolate Orange Cinnamon Rolls
Warm milk

1

Dissolve yeast

10

Add egg and butter

1

Add flour and salt

2

Rise

1h

Roll out dough

2

Make filling

2

Fill rolls

3

Shape into rolls

2

Arrange in baking pan

1

Bake

25

Place the pan in the oven and turn the oven to 350 °F. The rolls will rise as the oven preheats. Bake for about 25 minutes total until the rolls are lightly browned on top. Check after 15 minutes of baking and if the rolls are already lightly browned on top, cover them with a piece of foil and continue baking until baked all the way through. Leave the rolls to rest in the pan while you prepare the glaze.

Make orange juice glaze

2

Glaze

2

Serve