12

Apples

large. Try to find round, wide apples if you can

For the dough:

3 ½ cups

All-purpose flour

For the filling:

For the frosting:

2 oz

Cream Cheese

softened
Cinnamon Roll Stuffed Baked Apples
I made these Cinnamon Roll Stuffed Baked Apples for a Halloween brunch I hosted last year and let me tell you, they went down a treat! Everyone was so impressed by the cinnamon rolls stuffed into the apples. The best thing for me is that they were super easy to prepare. The dough doesn't require a long proving time which means I could prep these and concentrate on some of my other dishes and then bake them when the guests arrive.
I make a simple dough from water, yeast, flour, honey and salt. While the dough is proving, I hollow out some round wide apples. I fill the dough with cinnamon sugar and butter and roll it up to make the cinnamon rolls which I then stuff into each of the hollowed out apples. Once these are baked, I drizzle over a cream cheese frosting to make this impressive looking dessert!
To make Cinnamon Roll Stuffed Baked Apples, you will need the following ingredients: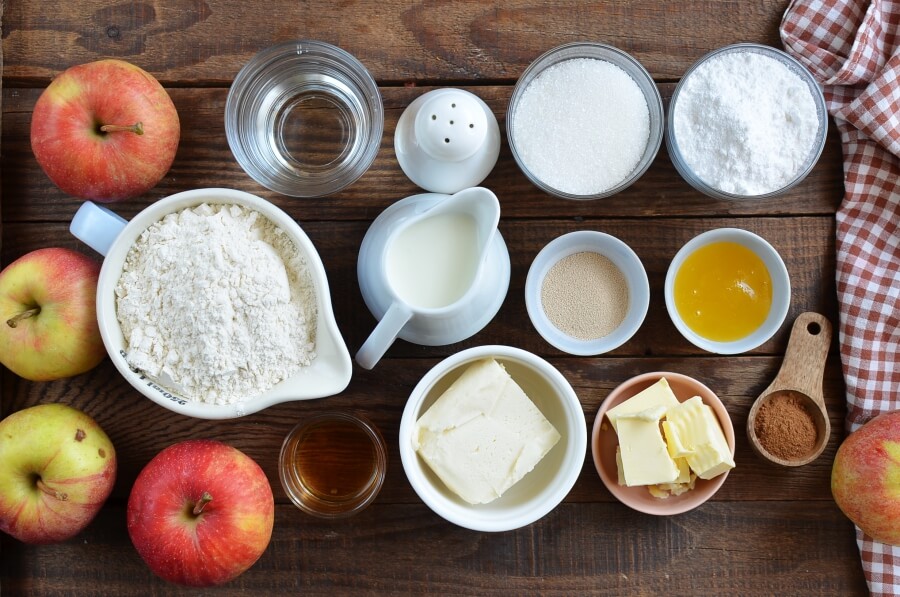 So, how to make Cinnamon Roll Stuffed Baked Apples?
Steps to make Cinnamon Roll Stuffed Baked Apples
Start the pastry

5

Add flour and salt

15

Prepare the filling

2

Roll out the dough

5

Heat the oven

10

Preheat the oven to 350 °F.

Add the filling to the dough

5

Make the cinnamon rolls

10

Bake

25

Make the frosting

3

Frost

20

Serve