1 to 2 tbsp

Olive oil

extra virgin

Black pepper

freshly ground , to taste
Low Carb Crispy Slow-Roasted Pork Belly
I love to make this Crispy Slow-Roasted Pork Belly when I have time to cook lazily at the weekends. This recipe takes almost three hours to cook but it is so worth it when you can tuck into the most tender and tasty pork with crispy crackling skin.
I always ask my butcher to score the skin on my pork belly, but you can do it yourself using a sharp knife. Simply make several cuts parallel across the skin of the pork. Slice right through the skin and fat but not into the meat. I usually place the cuts about ¼ inch apart and these convert to perfect slices of pork belly when it is ready to serve.
To make the Crispy Slow-Roasted Pork Belly, you will need the following ingredients: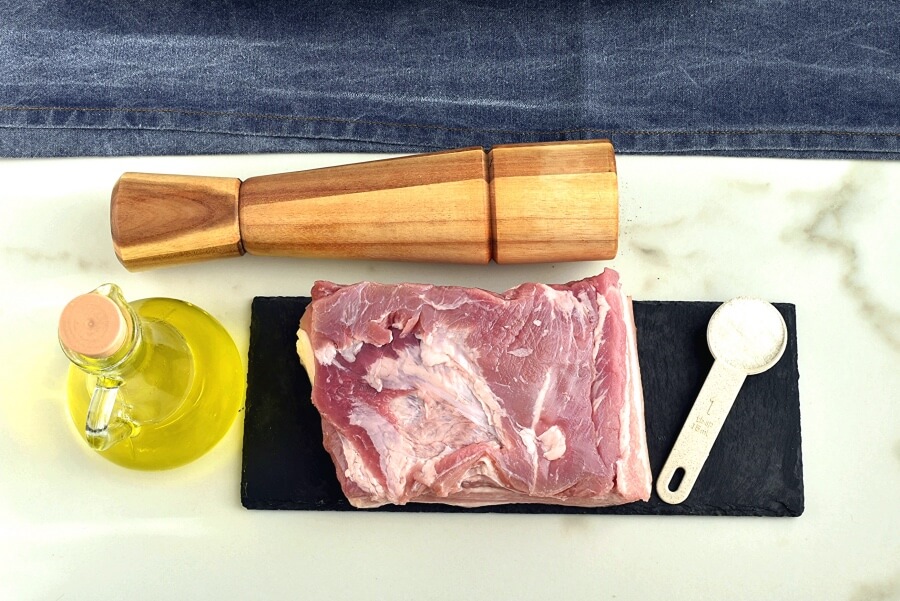 So, how do you make Crispy Slow-Roasted Pork Belly?
Steps to make Low Carb Crispy Slow-Roasted Pork Belly
Heat the oven and a large rimmed baking sheet

5

Preheat the oven to 350 °F.

Score the pork belly skin

2

Season the meat

2

Place meat on a rack

1

Roast

2h20m

Rest

10

Serve